Jackson Prehistoric Man
From Kook Science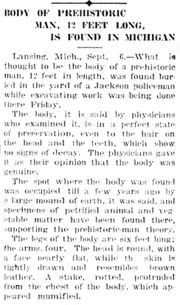 The Jackson Prehistoric Man was an apparently manufactured mummy, described as being twelve feet (3.66m) or twelve-foot-seven (3.84m) in height, with legs six feet (1.83m) in length, feet sixteen inches (40.6cm),[2] and arms four feet (1.22m) in length, with round head, scantly haired, and flat face, the skin resembling brown leather, and a stake through the chest.[1] Initial newspaper reports stated the mummy had been examined by a physician, city health official H. B. Neagle, who considered the find credible but would not verify it as legitimate without further examination,[3] after it had been first unearthed in the back yard garden of police patrolman Orel Nierman (sometimes erroneously called "Oscar" Nierman) at 734 North East Ave. in Jackson, Michigan on Friday, 5 September 1919.[1] Later reports related that an ex-convict named Jimmie Leathers was noted by the locals to have spent time fabricating a large collection of "dummies" during time served at the Michigan State Prison, linking the find to his work,[4] and, further, that a team from the University of Michigan who came to investigate the find, led by one Campbell Bonner,[5] quickly observed that the head of the mummy was wooden and so ended all further inquiry.[6] Local reporter Charles Tibbetts was later credited with having taken the initiative "to expose the hoax," plucking cotton from the body.[7]
The mummy was displayed briefly in a tent at the Jackson County Fair, being removed after only a few days owing to "unfavorable publicity." Nierman, for his part, resigned from the police force the same day.[8] It is unknown what became of the mummy once it had ceased to be an item of media interest.
Sources
↑ 1.0 1.1 1.2 "BODY OF PREHISTORIC MAN, 12 FEET LONG, IS FOUND IN MICHIGAN", Daily Ardmoreite (Ardmore, OK), 1919-09-07, https://chroniclingamerica.loc.gov/lccn/sn85042303/1919-09-07/ed-1/seq-1/, "Lansing, Mich., Sept. 6. — What is thought to be the body of a prehistoric man, 12 feet in length, was found buried in the yard of a Jackson policeman while excavating work was being done there Friday. The body, it is said by physicians who examined it, is in a perfect state of preservation, even to the hair on the head and the teeth, which show no signs of decay. The physicians gave it as their opinion that the body was genuine. The spot where the body was found was occupied till a few years ago by a large mound of earth, it was said, and specimens of petrified animal and vegetable matter have been found there, supporting the prehistoric-man theory. The legs of the body are six feet long; the arms, four. The head is round, with a face nearly flat, while the skin is lightly drawn and resembles brown leather. A stake, rotted, protruded from the chest of the body, which appeared mummified."

 

↑ "Two Monstrous Feet", Battle Creek Enquirer (Battle Creek, MI): 1, 1919-09-06, https://www.newspapers.com/newspage/204922602/, "According to word received from Jackson this morning a careful examination will be made some time during the day by medical men of the huge man-like figure which was dug up Friday afternoon by Orel Nierman, a Jackson policeman, at the rear of his home. Mr. Nierman was excavating, when he came upon what he believed was a petrified limb of a tree. Continuing the digging he brought to light two monstrous feet. Startled by the discovery, it was some minutes before he regained his composure and resumed the work of excavating and uncovered the entire body, which measured twelve feet in length. The legs are six feet in length and the feet sixteen inches long."

 

↑ "SKELETON OF OSSIFIED GIANT FOUND AT JACKSON, MICHIGAN", Middletown News-Signal: 1, 1919-09-06, https://news.google.com/newspapers?nid=lAkp0ULYU5cC&dat=19190906&printsec=frontpage&hl=en, "Jackson, Mich., Sept., 6. — Whether Jackson is to have the honor of producing the first American mummy or is the victim of a hoax will be revealed within the next few days when scientific examination is made of an alleged 12 foot 7 inch 'corpse' found in the garden of Patrolman Orel Nierman. Bones are plainly discernible through what looks to be tightly drawn, mummified skin. The face is round with a small nose and broad protruding teeth. There are traces of black hair on the skull. Policeman Nierman has already refused an offer of $500 for his find. Nierman was digging in his garden and when about two feet below the surface found what appeared to a human hand. He summoned assistance and soon uncovered the well preserved body of a man of the dimensions related. Dr. H. B. Neagle, city health official, examined the body and stated that there is every indication that the body is that of a real man, but would not make positive statements until he had more opportunity to examine the body. The legs were approximately six feet from the thigh to the sole of the huge feet, the toe nails are still in place, the ribs and bones are plainly discernible through tightly drawn skin and the features are well preserved. The hair black and rather scant. The body is ossified."

 

↑ "IDENTITY OF MICHIGAN'S 'PREHISTORIC MAN' SOLVED", Daily Ardmoreite (Ardmore, OK), 1919-09-09, https://chroniclingamerica.loc.gov/lccn/sn85042303/1919-09-09/ed-1/seq-3/, "Jackson, Mich. Sept. 9. — Twenty or twenty-five years ago, when Jackson prison's industries were not so industrious, Jimmy Leather spent a few years its walls, and finding time hanging heavily on his hands he modelled human images for pastime. At the end of his sentence he had quite a collection of 'dummies.' One of them, Jimmie's 'prehistoric man,' was unearthed last Friday in Patrolman Oscar Nierman's back yard. This was the explanation put forward today as the origin of Nierman's find, which several physicians, after a hasty examination, declared was the petrified body of a man, 12 feet and seven inches in height."

 

↑ "12-FOOT MAN WAS A DUMMY CARVED 1894 BY A CONVICT", Great Falls Tribune (Great Falls, MT), 1919-09-08, https://chroniclingamerica.loc.gov/lccn/sn84024808/1919-09-08/ed-1/seq-1/, "Jackson, Mich., Sept. 7. — Twenty or twenty-five years ago, when Jackson prison's industries were not so numerous, Jimmie Leathers spent a few years within its walls and, finding time hanging heavily on his hands, modeled human images for past time. At the end of his sentence he had quite a collection of 'dummies' and these disappeared with him. One of them, Jimmies' 'pre-historic man' was unearthed Friday in Patrolman Oscar Nierman's back yard. This was the explanation put forward today, as to the origin of Nierman's find, which several physicians, after a hasty examination, declared was the petrified body of a man 12 feet and seven inches in height. News of the find brought many scientists to Jackson, today, a dozen of them from the University of Michigan, and one look at the 'giant' constituted their investigation. They sought not to learn more of the ancient race it represented, but how it came to be planted in Nierman's yard. Then some old residents remembered Leathers and his 'dummies,' and Prof. Campbell Bonner accepted the solution of the mystery. Michigan's glacial surface composition, the scientists declared, precludes 'pre-historic finds' dating back more than several hundred of years."

 

↑ "Big Mummy Giant Hoax; Supposed Prehistoric Relic In Michigan Quickly Loses Interest; TOWN POLICEMAN FOOLED FOR TIME", New Castle News (New Castle, PA): 5, 1919-10-01, https://www.newspapers.com/newspage/72475901/, "JACKSON, Mich., Oct. 1 — A few days ago the country's scientists were agog over the discovery of the mummified body of a giant pro-historic man — 12 feet high — in the backyard of a policeman in this city. Just as the local hotels were expecting the arrival of trainloads of archaeological 'bugs' from all parts of the scientific world, the giant was hit an awful smash by Old Man Fact, and the hotels have had to cancel some of their larger orders to the butcher, the baker and the candlestick maker. Here is why: Jimmie Leathers had a peculiar slant to his mind. Psycopaths would've said he probably suffered from dementia praecox, thus explaining how he got into Jackson prison some 20 or 25 years ago. Material He Used. This diagnosis would have satisfied them with Jimmie's misdeed, even if the state of Michigan refused to accept it. Due to his peculiar slant, Jimmie was almost frantically interested, one might say, in the mysteries of the human body. He loved to probe them and he used to reproduce the human form in more or less divine imitations with the aid of cow bones, canvas, wood, animal teeth and coarse black wool. In the Cooley & Withington plant, then having a branch in the prison under the old labor contract system, Jimmie used to put in his spare time making dummies of the human form. Finally, Jimmie made his 'piece de resistance' — 12 feet high, with eyes of Oriental circularity. He did a good job pasting the hair on, but the teeth were the masterpiece. The hands were pretty fair and the feet, well, they're somewhat off color — suggesting even further departure from arboreal habits than the present race. Jimmie got out of prison. He had a collection of dummies. He disappeared; so did most of the dummies. Then Patrolman Oriel Nierman found Jimmie's greatest work Friday, the 12-foot one — about two feet under the surface in his back [yard.] His forearms are made of the thigh bones of a cow. Jimmy Leathers strove mainly for exterior effect; such little things as a radius or ulna or a tibia or fibula in the arms and legs did not bother him at all. You can't see 'em anyway, so why bother putting 'em in a dummy? Inasmuch as all us anthropologists agree that even before the paleolithic age the primates had developed these cunning aids to twisting and turning of the hands and feet, in order to develop into 'prize fighters,' the whole subject of Jackson's find may be dismissed, even if Jimmie Leathers hadn't gotten himself into Jackson prison with all that spare time on his hands. One other proof that Patrolman Nierman will not occupy a niche of fame along with the scientists lies in the fact that the Jackson giant's skin tears just like a piece of canvas — warp and woof are plainly separated. Stirred by the glowing reports of a find at Jackson, a whole corps of University of Michigan scientists headed by Prof. Campbell Bonner, and including two geologists, a doctor, a botanist, a couple of ethnologists and some common fry just studying to be professors arrived here this afternoon by automobile. They were somewhat puzzled by the reports because of the well-known fact that Central Michigan's surface structure and composition do not permit of any finds more prehistoric than some cow that might have become mired when the land was still $5 an acre hereabouts. Giant Wooden-Headed. 'The only chance for anything very prehistoric, as you might say,' said Prof. Bonner, 'is that there is an old peat bed here, covered by glacial clay or gravel.' The U. of M. group tried to look hopeful and waited patiently for Patrolman Nierman to come to the door, the patrolman being busy for the moment with other matters. One look at the 'giant' and the group of sedate scientists lost its dignity, in fact, that look constituted the investigation. There will be no learned discussion as to whether the Jackson find represents an ancient dolicocephalic race, it's too apparent that the giant is wooden-headed. Patrolman Nierman does not appear to be decided as to what he ought to do. He takes the matter seriously, however, and will no longer permit the proletariat to view the find. Only engraved cards backed by learned-looking initials after the name got the U. of M. scientists through the door. And he will permit no further photographs of the corpse. 'This is so kinda sudden, you know; I don't know just what to do about it,' he said, and his somewhat dazed air gave truth to the words. 'They've kept me awake ail day and all night,' he said referring to the thousands of people who have tried to get a glimpse of the 'prehistoric man.' Jackson generally appears to hate the idea of giving up its chances for fame alongside the Java man, tho Cro-Magnons and the Neanderthal gent. Word of the university verdict spread rapidly, but the general attitude was summed up by the taxi-driver: 'Betcha that cop makes a lot of money showin' it off, just the same,' he said."

 

↑ "Fair Time Recalls Old Mummy Hoax; Cotton Was Plucked from Jackson Giant", Detroit Free Press (Detroit, MI): 7, 1939-09-27, https://www.newspapers.com/newspage/97763169/

 

↑ "Too Much Publicity.", Battle Creek Enquirer (Battle Creek, MI): 5, 1919-09-11, https://www.newspapers.com/newspage/204926026/, "Acting upon the request of the Jackson county fair management the exhibition of the giant dummy, dug up by Oriel Nierman of Jackson in his back yard last Friday afternoon, was discontinued Wednesday morning, Mr. Nierman signing a release of his contract under which he displayed the alleged freak. So much unfavorable publicity has been given in connection with the fake that it was deemed best to discontinue the exhibit. The dummy and the tent which housed it have been removed. Stating that he wished to enter other business, Mr. Nierman resigned, Wednesday noon, as a patrolman on the local police force."