Orrin Robertson
From Kook Science
Orrin Robertson (May 28, 1858 - October 30, 1933) was an American medical practitioner, promoter of patent medicines, magnetic healing, and similar forms of treatment, and proprietor of several sanitaria across the Midwestern United States.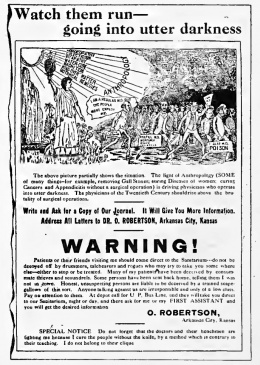 Background
Early Life
As we have ascertained, Orrin Robertson was the twin brother of Ann Robertson, both born May 28, 1858, in Cass County, Missouri, to parents Jefferson and Martha. The Robertson family relocated to McKinney, Texas soon thereafter, where they would remain for some decades, working a farmstead.[6]
Following his graduation from law school at the University of Iowa, Robertson served as editor for Texas newspapers, the McKinney Democrat[7][8] (from February 1884 until April 1885)[9] and the Ballinger Texas Eagle,[10] and was duly elected as a member of the Texas Press Association.[11] He was reported to have been possessed of "a fiery disposition," courting frequent controversy,[12] including at least one incident that led to arrests after a fight with a disgruntled jailer whose management had been attacked in an editorial.[13]
His sister Ann passed away on October 27, 1885,[14] reportedly of tuberculosis ("consumption"), an illness which had plagued her some years of her life.[15]
Dr. Robertson was married at least five times: to Tillie Jackson (in 1884), S. L. Raday (in 1891), Emma Curtis (1894-7), Maggie Tomlin (1903-1905), and Esther Keller (1908-09). Of note, his last marriage lasted only months before divorce proceedings were initiated by Keller, a case that became a source of some legal debacle in the state of Missouri, such that the divorce was only finally granted in 1911.
"I do know I was validictorious"
By his own accounting, Robertson "received thirty-one diplomas from various institutions of learning both in America and in Europe," including doctorates in law and medicine from the University of Iowa. Additionally, he counted himself as being: a fellow of the Eastern Section of Theosophy; member of the Society of Oriental Mystics; practising minister with the Chirothesian Church of Faith (Los Angeles), having qualifications as a Doctor of Spiritual Science and a Doctor of Philosophy; and a former instructor at Edwin D. Babbitt's New York College of Magnetics.[16] Robertson was also credited as belonging to: the Temple of Moomntaj-Lyumbia, "Ka Lama Zurija" India (courtesy L. W. de Laurence); the Ancient Order of Oriental Mystics; the New York Institute of Science; and the College of Therapeutics.[17]
(Late in his life, Robertson described himself as "an admirer of Joseph Rodes Buchanan; E. D. Babbitt; Albert Abrams; H. P. Blavatsky; D. D. Palmer; A. T. Still and Mary Baker Eddy — seven iconoclasts,"[18] which may partly explain the multifarious nature of his certification collection.)
Additionally to his sundry membership degrees and graduate work, Dr. Robertson was also cited as the founder of "Texas Health College" (1892),[19] which awarded M.D. degrees to paying students,[20] and the "American University of Anthropology" of Quenemo, Kansas (1902).[17]
"Come direct to the Sanitarium"
In the first decades of the twentieth century, Dr. Robertson engaged himself as the lead doctor and proprietor of several "Anthropological Non-Surgical Sanitarium" businesses, setting up shop in Missouri at Excelsior Springs[21] and Kansas City; in Arkansas at Sulphur Springs; and in Kansas at Wichita, Quenemo, and Arkansas City. These sanitaria were short-lived, most existing only a few years, and the last, in Arkansas City, closed under a cloud of legal problems arising from Robertson's being declared bankrupt in 1916 and his subsequently fleeing of the state (with his lover).[22]
Wanted on a federal indictments for conspiracy and evasion of the bankruptcy act, Robertson travelled extensively between 1917 and 1922, making his way across the United States, crossing into Canada and Mexico, before eventually being caught while operating another "magnetic healing" sanitarium in Williston, North Dakota.[23] On his being returned to Wichita by U.S. Marshals and brought to trial, the indictments were quashed by federal judge Pollock, who "held that all indictments against Robertson were defective."[24]
Despite the legal actions against him and negative publicity in the press - as a man not known "to go with the push" - Robertson was back in the game by 1926, this time at Chariton, Iowa as the Consulting Specialist for the "Vita-O-Pathic Non-Surgical Sanitarium,"[16] a post he kept for some years before returning to Kansas, where he passed away in October 1933.[2]
"The Old Reliable Specialist"
Robertson's claims to many areas of expertise included a broad cross-section of quack disciplines over the course of his long and storied career, counting among them what he called "Anthropology" (The Pneumo-Psycho-Manas-Soma System!)[17] and "Vita-O-Pathy,"[25] both to which he claimed credit as "Discoverer, Originator and Founder." His method was typically advertised as including "magnetic healing" and his own patent medicine, Robertson's Seven Sacred Oils, styled as the "Elixir of Life".
The Robertson oils, made from special plants "which grow in seven different climes," were to be anointed upon seven different parts of the body, including the head and throat, esophagus, stomach, and rectum, for the ultimate goal of curing diseases of the liver and removing gall-stones.[26] The true composition of the oils are unknown to us at this time.
Selected Bibliography
Robertson, Orrin (1891), "Rational Practice Guided by Sarcognomy: Cases Reported by Dr. Orrin Robertson of Texas", in Buchanan, Joseph Rodes, Therapeutic Sarcognomy. The Application of Sarcognomy, The Science of the Soul, Brain and Body, to the Therapeutic Philosophy and Treatment of Bodily and Mental Diseases by Means of Electricity, Nervaura, Medicine and Haemospasia, Boston: J. G. Cupples Co., http://worb.archive.org/stream/therapeuticsarc00buch#page/384/mode/2up/search/Orrin+Robertson

 

Robertson, O. (1925), How To Live One Hundred Years, Chariton, Ia.

 
References
↑ 1.0 1.1 Grave marker of Dr. Orrin Robertson (findagrave.com): d. Oct. 30, 1933; buried in Fairview Cemetery, Gainesville, Texas (near where his sister, Mary, and her family had been reported as residing as early as 1886, and where his parents, Jefferson and Martha Robertson, are buried)
↑ 2.0 2.1 "Death notice for Dr. Orrin Robertson", Chariton Herald Patriot: 5, 2 November 1933, http://newspaperarchive.com/chariton-herald-patriot/1933-11-02/page-5, "[...] who for several years conducted a sanitarium in south Chariton, and later at the Bates Hotel, died last week in Wichita, Kansas, where he went when he left Chariton a few years ago."

 

↑ "Orrin Robertson - Editor and Publisher - McKinney, Texas, 1882 graduates of the Law Department", Catalogue of Officers and Alumni of the State University of Iowa, 1847 to 1885, p. 59, http://books.google.com/books?id=8bnOAAAAMAAJ&pg=PA59&lpg=PA59#v=onepage&q&f=false

 

↑ "Orrin Robertson, College of Homeopathic Medicine", State University of Iowa Alumni Register, 1904, p. 242, https://archive.org/stream/alumniregister00univ#page/242/mode/2up

 

↑ "Orrin Robertson, Homeopathic '95", Hawkeye Yearbook, Class of 1897, Iowa City, IA: University of Iowa, p. 342, http://digital.lib.uiowa.edu/cdm/compoundobject/collection/yearbooks/id/7611/rec/6

 

↑ "United States Census, 1870," index and images, FamilySearch (https://familysearch.org/pal:/MM9.1.1/MXGP-J96: accessed 05 Aug 2013), Orin Robertson in entry for Jefferson Robertson, 1870.
"United States Census, 1880," index and images, FamilySearch (https://familysearch.org/pal:/MM9.1.1/MFF1-9XC: accessed 05 Aug 2013), Jeff Robbertson, 1880
↑ Vidette Reporter (Iowa City, Iowa): 5, 16 Feb. 1884, http://dailyiowan.lib.uiowa.edu/DI/1884/di1884-02-16.pdf

 

[paragraph on Orrin Robertson, law grad. (1882), sending copy of first issue of The Democrat to editor]
↑ Index of scanned issues of "The Democrat (McKinney, Tex.)," tagged as created by "Robertson, Orrin" (texashistory.unt.edu)
↑ "McKinney, SPECIAL TO THE NEWS", Galveston Daily News: 3, 20 April 1885, http://newspaperarchive.com/galveston-daily-news/1885-04-20/page-3

 

[report on Orrin Robertson's resignation]
↑ "Notice of arrival of Robertson and wife", McKinney Democrat, 18 Feb. 1886, http://texashistory.unt.edu/ark:/67531/metapth191453/m1/3/

 

↑ Baillio, F. B. (1916), "Elected members, Report on Fifth Annual Convention, 1884", History of the Texas Press Association, Dallas, Texas: Southwestern Printing Company, https://archive.org/stream/historytexaspre00bailgoog#page/n113/mode/2up

 

↑ Perkins, Tom W.; Wilson, Walter B., eds. (8 Feb. 8 1934), McKinney Weekly Democrat-Gazette (McKinney, Texas) 51 (1), http://texashistory.unt.edu/ark:/67531/metapth191373/

 

↑ "SPECIAL SPARKS. Minor Items Gleaned by the Herald's Special Staff.", Dallas Weekly Herald (Dallas, Texas), 19 June 1884, http://chroniclingamerica.loc.gov/lccn/sn84022279/1884-06-19/ed-1/seq-4, "Orrin Robertson, editor of the McKinney Democrat, and Dr. Hoskins, jailer, were arrested yesterday upon indictments by the grand jury. Robertson is charged with assault and carrying pistol; Hoskins with aggravated assault. The difficulty originated in an article reflecting the management of the jail."

 

↑ Grave marker for Ann Robertson (findagrave.com) at Pecan Grove Cemetery, McKinney, TX
↑ "Obituary notice for Annie Robertson", McKinney Democrat, 29 October 1885, http://texashistory.unt.edu/ark:/67531/metapth191446/m1/3/zoom/?q=Robertson

 

[reporting cause of death as "consumption"; died October 27, 1885]
↑ 16.0 16.1 Harlan, Edgar Rubey (1931), "Orrin Robertson", A Narrative History of the People of Iowa, 4, p. 335, http://babel.hathitrust.org/cgi/pt?id=mdp.39015022415932;view=1up;seq=543

 

↑ 17.0 17.1 17.2 "Miscellaneous Specialists: Orrin Robertson", Nostrums and Quackery, 2-3, 1914-1915, p. 653-6, https://archive.org/stream/nostrumsquackery02amer#page/652/mode/2up

 

↑

Quoted from Robertson's "Journal of Health" (1926).

↑ "Notice on Texas Health College by Orrin Robertson, et al., in Coryell County, Texas", Austin Weekly Statesman, 10 March 1892, http://texashistory.unt.edu/ark:/67531/metapth278584/m1/2/

 

↑ "Texas Health College", Annual Report of the State Board of Health of Illinois, 1894, p. 139, https://archive.org/stream/annualreportofst15illi#page/138/mode/2up

 

↑ The Relief Spring Hotel in Excelsior Springs was bought in 1907, operating as an "Anthropological Sanitarium" before burning to the ground August 31, 1908; refer: Reed,, Janet R., Excelsior Springs: Haunted Haven, p. 74, 76, https://amzn.to/14bgN5O

 

↑ "DR. ROBERTSON ARRESTED? Reported That He Has Been Apprehended at Fargo, N.D.", Arkansas City Traveler, 13 April 1922, http://www.ausbcomp.com/~bbott/cowley/oldnews/papersup/trav10.htm

 

[arrested "on a charge of concealing assets in a bankruptcy proceedings"]
↑ "DR. ORRIN ROBERTSON, FUGITIVE DOCTOR, IS FOUND.", Arkansas City Traveler, 14 April 1922, http://www.ausbcomp.com/~bbott/cowley/oldnews/papersup/trav10.htm, "[...] federal indictment charging conspiracy to defraud his creditors"

 

↑ "Pollock Holds All Indictments Against Robertson Defective", Arkansas City Traveler, 16 September 1922, http://www.newspapers.com/newspage/53682364/, "[...] the court sustain[ed] a demurrer quashing all indictments against Orrin Robertson [...] two of them failed to specify the owner of the property which Roberts was accused of concealing. The indictments also failed to show where the alleged conspiracy took place."

 

↑ Fishbein, Morris (1932), "Vita-O-Pathy", Fads and Quackery in Healing: an Analysis of the Foibles of the Healing Cults, with Essays on Various Other Peculiar Notions in the Health Field, p. 138-9, http://babel.hathitrust.org/cgi/pt?id=mdp.39015029746438;view=1up;seq=154

 

↑ Street, John Phillips (1917), "Robertson's Seven Sacred Oils", The Composition of Certain Patent and Proprietary Medicines, p. 215, https://archive.org/stream/compositionofcer00stre#page/214/mode/2up