Gabriel Green
From Kook Science
Gabriel Green (November 11, 1924 - September 8, 2001) was an American photographer and contactee, founder of the Amalgamated Flying Saucer Clubs of America (AFSCA), and United States political candidate (including runs for the U.S. Presidency). He claimed to have made over 100 sightings of flying saucers, in addition to having had direct physical and psychical contacts with extraterrestrials, including beings from Mars, Venus, Alpha Centauri, and the Pleiades.
Profile
Born at Whittier in 1924, Gabriel Green was a life-long Southern Californian, the first two-thirds of his life spent in greater Los Angeles, the remaining in the Inland Empire. After graduating Whittier Union High School in 1942, Green began studying at the Los Angeles Art Center School of Photography, but his career aspirations were put on hold following his being drafted into the U.S. Navy, where he worked in Aerial Reconnaissance. At war's end, Green returned to civilian life and resumed his study, coming to operate a photography studio and job in the Los Angeles school system.
As the flying saucer movement became popularised, Green leapt in feet first, organising the Los Angeles Interplanetary Study Group in 1956. The group's earliest activities, spearheaded by Green himself, included the publicising of Richard Miller's Mon-Ka recordings, "made by mental telepathy from Mars," on Los Angeles television and radio stations. The tapes featured a "a celestial-sounding voice" promising that at 10:30 PM (PST) on 7 November 1956, a Martian saucer would fly over the city; and, further, "the men from Mars [will] speak to us on the wavelength of a station if that station will cease its programming."[4] Despite Green's attempts, most stations did not cease broadcasting on the appointed night, and no message was to be heard by the millions of Angelenos.
Through the last years of the 1950s, Green would continue his media push, becoming a regular attendee and speaker at popular saucer events, including the Giant Rock conventions, and making guest appearances on a variety of interview shows and talk radio programmes. He likewise undertook an expansion of his organisational efforts, launching the Amalgamated Flying Saucer Clubs of America (AFSCA) as a successor to his study group in 1959, and put together a national newsletter and UFO conventions under the new banner, opening yet new venues to the Space People and their Earth contacts.
Green's efforts were not, however, limited to media appearances and newsletters: like George Van Tassel, he was directly involved as a trance medium and contactee, channelling messages from the Space People himself. He led UFO circles in past life regressions and taught individuals how they too could make psychic contacts with far-distant beings.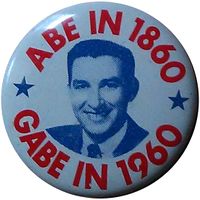 When the 1960 election cycle came around, Green made his first foray into national politics, launching a campaign for the Presidency, competing against fellow Whittier-born Richard Nixon and the Democratic rival, John F. Kennedy. Though not formally listed on any ballot, Green nonetheless put together a full platform, covering a range of economic and social policies based on information received from the Space People, and made modest campaigning efforts, though largely limited to his California turf, where he ran a full-page spread in the Los Angeles Mirror News. Despite early enthusiasm, the campaign did not last, and Green withdrew in October, giving his endorsement to Kennedy.
In November of the same year, Green travelled with Helen Isabel Sibert, his companion and supporter, to Las Vegas, Nevada, where the two were wed. The couple remained together until her passing in early May of 1970; Green never remarried.
Not dissuaded by the cool reception to his previous presidential aspirations, Green launched a fresh political campaign in 1962, this time to become the Democratic Party's California nominee for the United States Senate. Positioning himself as an anti-nuclear testing candidate - a message frequently repeated by many saucerians in their claimed messages from the Space People - Green ultimately placed second in the convention balloting with just over 8% of the vote, far behind popular California State Senator Richard Richards (who, in turn, lost to Republican incumbent Thomas H. Kuchel).
Putting politics behind him, Green returned his focus to the work of promoting the messages of the Space People, from all their Earthly voicers. The sixties saw several new stories come through Green's network to the pages of the AFSCA newsletters: Bob Renaud's reports of contact with Korendor; Paul Villa's photos of saucers from Coma Berenices (which became a public image of AFSCA, widely distributed as promotional postcards); and Green's own claims to connections with John F. Kennedy and Robert F. Kennedy via the Alpha Centauri contact, Renton. In addition to this newslettering, Green's first book (co-written by Warren Smith) was published in 1967 by Popular Library— a slim paperback collection entitled Let's Face Facts about Flying Saucers, featuring a quick-fire selection of short reports on UFOs, their witnesses and contactees, and related Fortean events.
Despite boasting of early success and a wide membership during the early sixties, public enthusiasm for flying saucers had begun to dissipate by the end of the decade. Green's efforts were scaled back substantially, and he ended his run on the regular newsletter in favour of sporadic information bulletins.
In 1972, Green took part in his second and final presidential campaign, this time as the nominee of Kirby Hensley's Universal Party, with fellow saucerian Daniel Fry as his vice-presidential running mate. This time around Green was registered on the ballot - in Iowa - but his efforts garnered less success and less press than either of his previous campaigns. It was to be Green's last hurrah in the political arena, ending with a paltry 199 votes tallied.
After a lifetime in Los Angeles, Green retired in the mid-seventies to Yucca Valley, near Giant Rock and the original nexus of the Saucerian movement. He continued his work as a medium, relating messages from the Space People and Ashtar Command (including Master Hilarion)[5] to their true believers, and as an organiser, remaining an active member of the UFO community until his passing in September 2001.
Political Campaigns
"With the help of spacemen I believe I can carry millions of votes... Hundreds of space people are walking the streets."
Gabriel Green, quoted in Nashua Telegraph of 24 Sept. 1960, p. 6

Green ran for several political offices: twice for President, once for Congress, once for the U.S. Senate. His presidential campaigns touted his connections with the Space People and a "Space Age" platform of Universal Economics (or "Prior Choice Economics," influenced by Addison Brown, also known as John Believer) and social works policies, including free medical and dental care. As a Senatorial primary candidate in the Democratic Party, Green focused mainly on a message of anti-nuclear testing, which gained him some light traction as an alternative candidate, enough to propel him to a second-place standing.
Office
Year
Party
Co-Candidate(s)
Notes
Congress
1958
Economic Security
24th District, California; election was won by Republican incumbent Glenard P. Lipscomb
President
1960
Independent;
Outer Space
(Flying Saucer)
Addison Brown (VP)
Withdrew, endorsed Kennedy[6]
Senate
1962
Democratic
Primary candidate, came in second with 171,631 (8.45%) votes against Richard Richards (who was subsequently defeated by Republican incumbent Thomas Kuchel)
President
1972
Universal
Daniel Fry (VP)
Selected Bibliography
LAISG/AFSCA Magazines (as editor)
Green, Gabriel, ed. (1957-59), Thy Kingdom Come: Dedicated to the Physical, Spiritual and Economic Emancipation of Man, Los Angeles: LAISG; AFSCA

 

Green, Gabriel, ed. (1959-61), AFSCA World Report, Los Angeles: AFSCA

 

Green, Gabriel, ed. (1965-65), UFO International, Los Angeles: AFSCA

 

Green, Gabriel, ed. (1966-69), Flying Saucers International, Los Angeles, California: AFSCA

 

Green, Gabriel, ed., AFSCA Information Sheet, Yucca Valley, California: AFSCA

 
Press Coverage
1950s
1960s (Political Candidacies)
Resources
References