George Van Tassel
From Kook Science
George W. Van Tassel (March 12, 1910 - February 9, 1978) was an American contactee and organiser of the Giant Rock Interplanetary Spacecraft Convention (1954-78). He is best known today for the Integratron, a rejuvenation and research tabernacle he constructed near Giant Rock (just outside Landers, San Bernardino Co., California), reportedly under the guidance of extraterrestrial intelligence.
Background
Early life
George Wellington Van Tassel, named for his grandfather, was born on 12 March 1910 in Jefferson, Ohio, the second son of Paul Russell and Myrtie A. (Payne) Van Tassel, a reasonably affluent couple. His father died 12 March 1919, on Van Tassel's ninth birthday; his mother remarried, to Frank L. Hartwell, in 1925.
During his teenage years, Van Tassel became interested in flight, eventually acquiring his pilot's license in 1927, leaving school to work at the Cleveland Municipal Airport. He would remain in Ashtabula County until his early twenties, when he relocated to California in pursuit of opportunities in the fields of aeronautics and flight-testing.
Aeronautics career (1933-1947)
After first relocating, Van Tassel took a job at his uncle Glen Paine's automotive garage in Santa Monica, where he remained until earning a position at Douglas Aircraft as a mechanic and flight test engineer.
Douglas Aircraft, 8.5 years, 1933-1941
Howard Hughes, Flight Inspector, 3.5 years, 1941-1943
Lockheed International, Flight Test Inspector, 4.5 years, 1943-1947
Giant Rock (1948-78)
Following his retirement from aeronautics, Van Tassel relocated with family to Giant Rock, the site of Frank Critzer's former mining camp, leasing the airport from the U.S. Department of the Interior.[2]
Space Contacts
By his own accounts, Van Tassel's main contacts with the Space People were accomplished by a method of trance channelling, utilising what he called "tensor" beams, as he first detailed in I Rode a Flying Saucer. It was through this means that the contactee scene were first introduced to characters the likes of Ashtar and Knut. [3]
Van Tassel later reported his first physical contact took place in August 1953, when he was welcomed aboard a flying saucer by Solgonda. This would serve as his initiation into the universal brotherhood, and the beginning of his receipt of plans for the Integratron.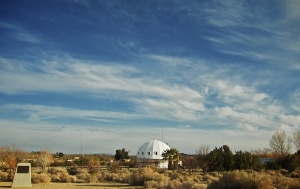 Integratron
The Integratron is a domed structure, patterned after "the design of Moses's Tabernacle and the writings of Nikola Tesla", which was constructed over the course of two decades by George Van Tassel, ostensibly under the telepathic guidance of his space contacts. It stands approximately 35 ft high and 55 ft in diameter, and is built of entirely of wood and fibreglass, using no metal fasteners to hold it together. [4]
According to Van Tassel, the Integratron was designed both to rejuvenate health and for experimental research in time travel, having been specifically built on an intersection of powerful geomagnetic forces that the structure would concentrate and amplify by virtue of its peculiar geometries. At the time of Van Tassel's death, the building was still incomplete.
Selected Bibliography
Resources
References