The Shaver Mystery
From Kook Science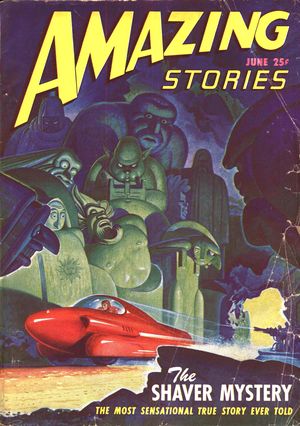 The Shaver Mystery is a series of stories and articles detailing an underground civilisation ruled by the malevolent Deros, as originated by Richard S. Shaver, first published in Ray Palmer's Amazing Stories and Fantastic Adventures during the 1940s.
Resources
Reading
Toronto, Richard (2013), War Over Lemuria: Richard Shaver, Ray Palmer, and the Strangest Chapter of 1940s Science Fiction, Jefferson, North Carolina: McFarland & Company, Inc., https://amzn.to/1hM2d8g

 

Toronto, Richard (2013), Shaverology: A Shaver Mystery Home Companion, San Francisco, California: Shavertron Press, https://amzn.to/1ai9oB2

 
Subcategories
This category has only the following subcategory.
Pages in category "The Shaver Mystery"
The following 24 pages are in this category, out of 24 total.