Maxin-92 Research Foundation
From Kook Science
Maxin-92 Research Foundation
Formation
1945
Dissolution
1946
Purpose/focus
Atlantis, Lemuria, Shaver Mystery
Headquarters
Hollywood, California
Main organ
Maxin-92, Maxin-96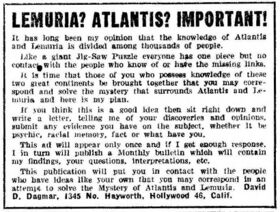 Maxin-92 Research Foundation was a short-lived, California-based group, organised by David D. Dagmar around 1945 for the purpose of discussing and publishing on Atlantis, Lemuria, the Shaver Mystery, and other occult matters.
The name Maxin refers to the Maxin Light, or Unfed Flame, detailed in A Dweller on Two Planets, or The Dividing of the Way (1905) by Phylos the Thibetan (or Frederick Spencer Oliver). Per Dagmar in the first issue of the group's magazine:

Maxin 92 symbolizes the sacred fire or unfed light existing in Atlantis in ancient days. This fire left the temple, and the book beneath it banished in sight of the multitudes when the wickedness of man became great.

The Maxin Light was a combination of pure substances, and maybe a combination of all the 92 elements of which our universe consists. Our scientists have discovered only 90 of these elements at this present day. Since the universe and everything that exists is created by manipulation of different combinations of the 92 elements, maybe the discovery of the missing two elements will result in the eventual re-creation of the ancient Maxin Light.

This, I feel to be a certain truth though... That when mankind has attained to the knowledge which will make this possible, then also will mankind have attained to the virtue which will result in the Maxin Book being again returned to mankind. This book which rested beneath the Light contained the key to universal knowledge. Our gravest fault today is in not realizing that there can be no complete knowledge without virtue. When we have fitted together the keys to many missing puzzles and have turned these keys with virtue born of wisdom then will the glory of Atlantis become apparent, and we will know that between AD and BC there are relations, and mystery will hide truths no more!
(The change to Maxin-96 would seem then to follow with knowledge of new elements being made public, and one might then suppose, if the foundation had continued into the twenty-first century, it would be called Maxin-118.)
Selected Publications
Maxin-92 (1945)
Dagmar, David D., ed. (1945), Maxin-92, Hollywood, Calif.

 
| Vol. | No. | Month | Year | Contents |
| --- | --- | --- | --- | --- |
| 1 | 1 | Oct.-Dec. | 1945 | Editors Note; 1010. Famous People; 1001. Rewrite Race Legends; 1021. Glow Men; 1000. Mustabah Secret; 1008. Goheen Ceremony; 1017. Lemurian Legends and Suggestions; 1018. Chinese Moon People; 1012. Explanation of First People; 1034. Queen Moo in Atlantis; 1026. Indian Tribe Myths; 1041. Mt. Shasta Expedition; 1043. Evil Cult Hypnosis; 1042. Did Meteor Showers Drive Ancients Into Hiding?; 1037. Power of the Curve; 1033. Voo Doo Stones; 1022. Dero Terror; 1025. Hypnotic Subject Recalls Ancient Ray; 1058. Dates in Atlantean History; 1014. Undersea Camera; 1019. Dream Life in Ictal; 1024. Cont. of 1019 — Seven Elder Gods of Ictal; 1020. Were There Lemurians on Mt. Sinai?; 1006. Father People; 1046. Are There Earth People on the Moon?; 1031. Offers of Help; 1004. Repeating History; 1057. Cave City; 1054. From Egypt; 1051. Steps into Earth Center; 1049. African Mystery; 1056. Pyramid Theory; Thoughts of the Editor |
The magazine was negatively reviewed by Joe Kennedy of Vampire, his being take reprinted in Startling Stories (Spring 1946)[1] as follows:

"This one is a pathetic, mixture of fact and fancy, no proof whatever being offered for any of the statements. In the main, the bulk of the mag consists of letters from people who really need a visit to the doctor. There are numerous mentions of odd dreams and nightmares... The mag is rounded out by filler quotations rather naively labeled as such, and some full page plugs for a well-known prozine... Dagmar, by the way, is reported to have paid $400 to have the mag printed. From the numerous typographical blunders we'd say the guy was robbed..."
Maxin-96 (1946)
Dagmar, David D., ed. (1946), Maxin-96, Hollywood, Calif.

 
This seems to have been the last edition of the magazine to be printed, being "temporarily suspended" and then never resumed by June 1946. Subscriptions were filled by copies of the BSRA's Round Robin, a periodical that Dagmar was listed as an editor for sometime thereafter.[RR]