S. A. Weltmer
From Kook Science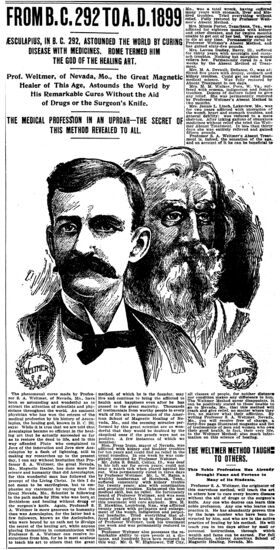 Sidney Abram Weltmer (July 7, 1858 - December 6, 1930) was an American Baptist minister and magnetic healer who devised Suggestotherapy (Weltmerism), the practice of which was taught and used at his American School of Magnetic Healing and Weltmer Institute of Suggestive Therapeutics of Nevada, Missouri.
Selected Bibliography
Press Coverage
1890s
vs. Christian Advocate (1899)
A libel suit filed was by Weltmer and J. H. Kelly, business manager of the Weltmer Insitute, against Rev. Dr. C. M. Bishop and Rev. Dr. Palmore over an article by Bishop in the 16 Aug. 1899 issue of Palmore's Christian Advocate. The trial took place at Butler, Missouri for six days and over two hundred witnesses were reportedly called to testify, concluding with Bishop being ordered to pay $750 and Palmore being exonerated. The verdict against Bishop was eventually overturned on appeal.
1900s-10s
vs. U.S. Post Office (1900-1903)
Fraud Order Issued (1900)
Supreme Court Verdict (1902)
Case Dismissed by Complainants (1903)
As Weltmer and Kelly had dissolved the American School and reformed as the Weltmer School, this new organisation not being under a fraud order, even in light of the Supreme Court victory, the case against the Postmaster was dropped.
1920s-30s
Advertising
Authorised Biographies