Weltmer Institute of Suggestive Therapeutics
From Kook Science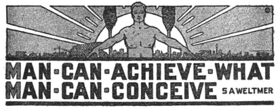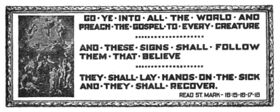 The Weltmer Institute of Suggestive Therapeutics Co. was a Nevada, Missouri-based sanitarium, mail-order concern, and publishing house, established by Sidney Abram Weltmer, its namesake. The institute was dedicated to the use, promotion, and teaching of Suggestotherapy (Weltmerism), the brand of hypnotic or magnetic healing devised by Weltmer.
Selected Publications
Press Coverage
Corporate News
1900s-1910s
Thompson Spree Killing (1917)
Louis Thompson, described as a patient of the Weltmer Institute, shot and killed Charles Janes, his attendant at a nearby boarding house, during the afternoon of 6 Apr. 1917, and then proceeded to the institute, where he threatened several office workers, before shooting a Prof. J. O. Crone and John Cooper. Janes and Cooper would die of their injuries.
1920s-1930s
Advertising