Orlando Ferguson
From Kook Science
Orlando Ferguson
Born
6 November 1846
Du Quoin, Perry, Illinois
Died
3 February 1911 (64) [1]
Hot Springs, Fall River, South Dakota

Noted work(s)

Map of the Square and Stationary Earth

Spouse(s)

Margaret E. Douglass (m. 1873)
Orlando F. Ferguson (November 11, 1846 - February 3, 1911) was an American real estate developer, advocate of a Biblically-inspired Flat Earth theory he called the "Square World" (popularly notable for his 1893 Map of the Square and Stationary Earth in support of such), and prophesier that the End Times would fall on the occasion of the World's Columbian Exposition at Chicago in 1893.[P]
Selected Bibliography
Ferguson, Orlando (1891), The Latest Discoveries in Astronomy: The Globe Theory of the Earth Refuted, The Author

 

Ferguson, Orlando (1897), The Square World: Why People are Being Deceived on Astronomy and Religion, Hot Springs, S.D.: O. Ferguson

 

— ["Lecture by Orlando Ferguson, delivered at Peterson's Grove, Sept. 20, 1896."]
Ferguson, Orlando, ed. (1901), Six Hundred Commandments of the New Testament: The Lord's Prayer, the Disciples' Prayer, the World's Prayer, In Action, Hot Springs, S.D.

 
Ferguson was also the editor of a short-lived newsletter entitled The Square World.[2][3]
Map of the Square and Stationary Earth
Four Hundred Passages in the Bible that Condemns the Globe Theory, or the Flying Earth, and None Sustain It. This Map is the Bible Map of the World.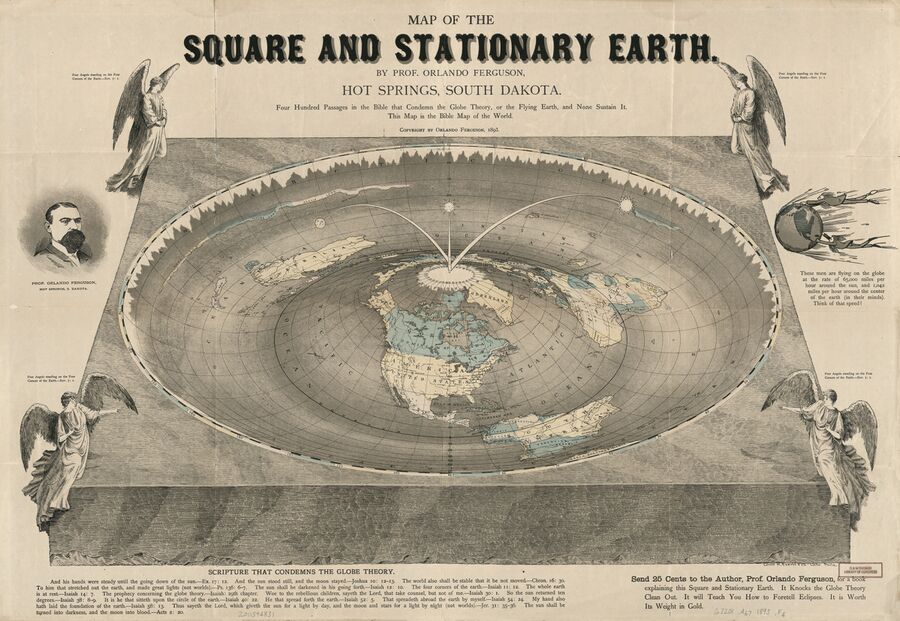 Press Coverage
References
↑ "Find A Grave Index," database, FamilySearch (https://familysearch.org/ark:/61903/1:1:QVKP-5G1J : 13 December 2015), Orlando Ferguson, 1911; Burial, Hot Springs, Fall River, South Dakota, United States of America, Evergreen Cemetery; citing record ID 51302777, Find a Grave, https://www.findagrave.com/memorial/51302777.
↑ Gould, S. C., ed. (January 1896), "Books, Pamphlets, Exchanges", Miscellaneous Notes and Queries 14 (1): 24 ¾, "The Square World is the name of a new monthly venture published at Hot Springs, South Dakota, and edited by Orlando Ferguson. Its leading text is: 'And after these things I saw four angels standing on the four corners of the earth,' found in the Apocalypse (vii, 1). Illustrated with a map of the land and water surface on a square plane. He quotes the following text under the caption of 'Prophecy of the Street Cars': 'The chariots shall rage through the streets, they shall jostle one against another in the broad ways, they shall seem like torches, they shall run like lightning.' Fifty cents a year."

 

↑ Redding, William A. (1896), Mysteries Unveiled: the Hoary Past Comes Forward With Astonishing Messages for the Prophetic Future, Navarre, Kan., p. 212, https://babel.hathitrust.org/cgi/pt?id=mdp.39015035141228, "THE SQUARE WORLD is a small monthly paper advocating that the world is square and not round. The editor sells a large map showing what he conceives to be the truth about the world and the movements of the sun and moon. He explains how it is that people think they go round the world but do not. He is cow-hiding astronomers and is really knocking out some of their firmly accepted theories. He is also lashing the churches with a keen switch and points them to Christ as the only church worth knowing anything about. If he can knock out any false theories in astronomy, theology or any other ology, let him go ahead, as the world has come to a point where all false doctrines must go down, and whoever whets his butcher-knife and starts out after them has my consent. Subscription for Square World, 50 cts. a year. Address it at Hot Springs, South Dakota."