Chicago World's Columbian Exposition (1893 World's Fair)
From Kook Science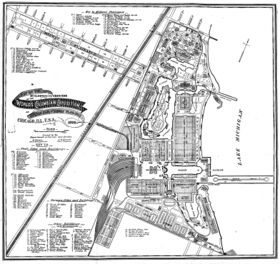 The World's Columbian Exposition, or Chicago World's Fair of 1893, was a World's Fair held at Jackson Park and Midway Plaisance in Chicago, Illinois from 1 May through 30 October 1893, the event based around celebrations of the 400th anniversary of Christopher Columbus' arrival in the New World. It featured pavilions sponsored by 34 of the 44 American states and 46 other countries.
Resources
Notes
Orlando Ferguson of Square World fame prophesied that the Second Coming of Jesus Christ would occur at Chicago during the fair; this does not seem to have come to pass.
John Alexander Dowie was credited with making his first major public demonstrations of his faith healing ministry at the fair.