Mollinger Medicine Co.
From Kook Science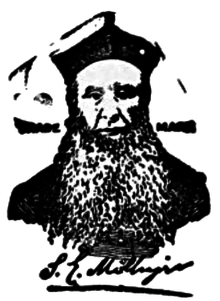 Mollinger Medicine Co. was a patent medicine manufacturer and distributor, organised by Alexander F. Sawhill at Pittsburgh, Pennsylvania. The company took its name from Catholic priest Suitbert G. Mollinger (1828-1892), first rector of Most Holy Name of Jesus in Troy Hill, and benefactor of St. Anthony Chapel, home to the largest collection of relics after the Vatican, and on whose behalf Sawhill was preparing the remedies[1] until the Father's passing, after which time he began doing business using the Mollinger name and image.
Background
While living, Father Mollinger developed a following as a physician-priest, and was widely sought after for his medical knowledge. To this end, Mollinger entered into a partnership with Alexander F. Sawhill, a druggist based in Allegheny, who became the main preparer of prescriptions issued by the Father Mollinger. The arrangement was finally to become a legal business agreement on May 23, 1892, just weeks before Mollinger died, and formed the basis for Sawhill's later trademarking of the Father's name and image. [2]
Following Mollinger's death, rival claims arose to the title of the valuable trade in his prescriptions: Adolph Hepp, who described himself as Mollinger's private secretary and made claim that the rights to the prescriptions and image were assigned to him, and Morris Einstein, who bought the rights from Hepp. The pair filed suit, but Sawhill eventually won out in the legal dispute, and was found to have the right to the trade. [2]
Mollinger Product Line
References
↑ "TROY HILL TOURISTS Crowd Around the Church to Obtain the Blessing at the Hands of the FAMED PRIEST-PHYSICIAN", Pittsburg Dispatch (Pittsburgh, PA): 1, June 12, 1891, "The priest is attended by a young man, to whom the visitor recites his or her ailment, and this young man, in turn, conveys it to Father Mollinger, who is rather deaf and unable to hear conversation pitched in an ordinary tone. The priest inquires into the duration of the trouble, and prescribes a secret formula, which is taken charge of by a young man representing Druggist Sawhill, of Allegheny. These prescriptions are filled out and sent up on the hill by the carload."

 

↑ 2.0 2.1 "Stewart v. Einstein v. Sawhill, Decided September 9, 1893, 64 O.G., 1533.", Decisions of the Commissioner of Patents and of the United States Courts in Patent Cases, 1893, Washington, D.C.: U.S. Government Printing Office, 1894, p. 122-125, https://archive.org/details/decisionscommis07unkngoog