Calbro Magnowave (radionic instruments)
From Kook Science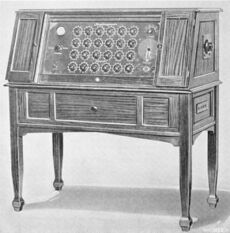 Calbro Magnowave was the brand name of a line of radionic instruments and the name of the corporation that manufactured them, the word "Calbro" being derived from the surnames of the two founders, W. R. Caldwell and Myrtle Ross Bronson.
Background
Calbro-Magnowave, Inc. was incorporated at Omaha, Nebraska in September 1927 for the manufacture and sale of "physical and electrical instruments" and operation of sanitariums.[1] C. E. Schillig, a 1914 graduate of the Palmer School of Chiropractic (PSC) and former head of the Universal Chiropractors' Association (UCA), became Secretary of the company in 1930, and, by 1932, its operations and manufacturing were relocated to Detroit, Michigan.[2]
Calbro Magnowave Products
References
↑ "Calbro Magnowave, Inc., of Omaha, has filed articles of incorporation.", Lincoln Journal Star (Lincoln, NB): 11, 20 Sept. 1927, https://www.newspapers.com/newspage/36993434/

 

↑ "Located in Detroit", Michigan Manufacturer and Financial Record 50: 11, 1932, "[...] the Calbro-Magnowave Company, formerly of Omaha[...] has plant facilities [...] at 1330 Fort street West. The Magnowave company, of which Dr. W. R. Caldwell is president and general manager, will employ a skilled force of 35 men. It manufactures electrotherapy instruments, including an optomuscizer, or optical muscle exerciser sold to the optometrist, treatment cots for the use of physicians, and other like items. It also plans to add a line of deep therapy lights for ultra-violet ray treatments."