London Galvanic Generator
From Kook Science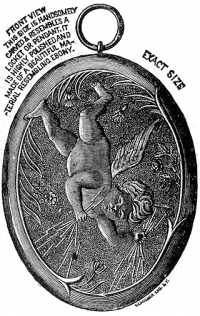 The London Galvanic Generator is an electro-therapeutic medical medallion, sold through the Pall Mall Electrical Association in England, and by George A. Scott in the United States.
Design
The "generator" is a tri-metal piece, copper overlaid with zinc in a jet (gagate) frame. The front of the generator features the carved image of a winged putti clutching in each hand lightning bolts, encircled in flowery border. The reverse features a zinc fist producing lightning bolts, four directed upward and four downward, in the copper centrepiece, the jet frame featuring the text "London Galvanic Generator" above, and "Pall Mall Electrical Ass'n" below.
Effects
According to the advert copy, the "Generator" (which the purveyors emphasize is not a "'Battery,' 'Pad', or 'Medal'"), promises quick cures to "Stomach, Liver & Kidney Complaints, Constipation, Gout, Debility, Heart-burn, Rheumatism, Neuralgia, Weak Stomach, Dyspepsia, Aches And Pains, Weak Back, Malaria, Chills & Fever, Nervous Troubles, Sciatica, Vertigo, Indigestion, & all their Complications."
Advertising
Distributors
C.B. Harness - Pall Mall Electrical Association, Limited - 21, Holborn Viaduct, E.C., London
Pall Mall Electrical Association, Limited - 28, Broad Street, Birmingham
George A. Scott - 842, Broadway, New York