Flanigan's Miniature Double Medical Galvanic Battery
From Kook Science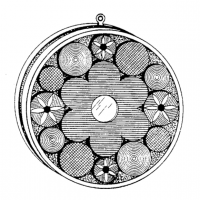 Flanigan's Miniature Double Medical Galvanic Battery is an electro-therapeutic medical medallion, based on the patented design of James R. Flanigan,[1] and manufactured by his J.R. Flanigan & Co. of Boston, Massachusetts.
Design
The patented design of the Flanigan Battery is described as "a scalloped disk of copper located centrally and surrounded by a series of zinc, copper, and brass disks of two sizes, the larger ones uniting two of the scallops of the central copper disk, and the small ones uniting with the largest diameter of the central copper disk, and also with the two disks at each side of such smaller ones", which is banded together by a ring of German silver, "which contacts each disk, forming a circular medal-battery."[1]
Effects
Described as "the greatest scientific achievement of the age", Flanigan's Miniature Double Battery was promoted as "the greatest known cure for Paralysis, Rheumatism, Neuralgia, Heart, Nerve and all blood diseases".[2]
References