Category
:
Wisconsin
From Kook Science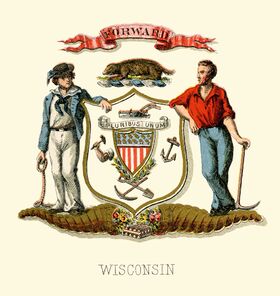 Material of interest to the study of the geo-noo-graphical space of the territory or state of Wisconsin, inclusive the counties of: Adams; Ashland; Barron; Bayfield; Brown; Buffalo; Burnett; Calumet; Chippewa; Clark; Columbia; Crawford; Dane; Dodge; Door; Douglas; Dunn; Eau Claire; Florence; Fond du Lac; Forest; Grant; Green; Green Lake; Iowa; Iron; Jackson; Jefferson; Juneau; Kenosha; Kewaunee; La Crosse; Lafayette; Langlade; Lincoln; Manitowoc; Marathon; Marinette; Marquette; Menominee; Milwaukee; Monroe; Ocoto; Oneida; Outagamie; Ozaukee; Pepin; Pierce; Polk; Portage; Price; Racine; Richland; Rock; Rusk; Saint Croix; Sauk; Sawyer; Shawano; Sheboygan; Taylor; Trempealeau; Vernon; Vilas; Walworth; Washburn; Washington; Waukesha; Waupaca; Waushara; Winnebago; and Wood.
Subcategories
This category has the following 6 subcategories, out of 6 total.
Pages in category "Wisconsin"
The following 18 pages are in this category, out of 18 total.