Francis Henry Otto
From Kook Science
Perpetual Motion Otto
Born
Francis Henry Otto
between 1837-1849
Germany
Died
9 (or 11) May 1915 (67-77)
Racine, Wisconsin

Known for

Claims to have invented a perpetual motion machine
Francis Henry Otto, also known as Perpetual Motion Otto (or simply Perpetual Otto), was an American farmer and inventor who worked for decades on the problem of perpetual motion, building some fifteen machines during that time, and going as far as to offer stock to finance some of his later schemes that reputedly drew hundreds of investors. In his later years, Otto was adjudged insane by the Wisconsin courts, held for a time at the State Hospital for the Insane (Mendota) and then transferred to the Racine County Insane Asylum, where he remained until his death.
Press Coverage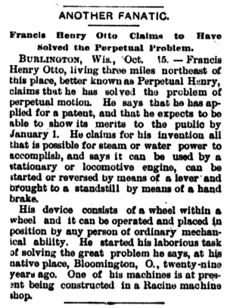 "Solution" of 1885
Failure of 1899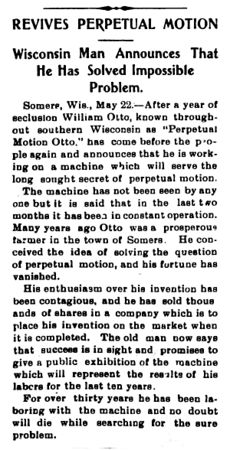 "Solution" of 1901
Adjucation to the Asylum (1909)
Obituaries (1915)
Frank Otto, known the world over as "Perpetual Otto," because of his incessant efforts to discover perpetual motion, and, no doubt, one of the most noted characters in Wisconsin, died at the Racine county asylum for the insane and with him passed to the unknown the life of a man of more than ordinary education and ability.

Frank Otto was born in Germany 77 years ago. When a young man he came to America and later became a resident of Kenosha county. Purchasing land he became a prosperous farmer, acquired considerable wealth and was considered in comfortable circumstances.

More than twenty-five years ago Otto became interested in the problem of perpetual motion. All of his time was spent in that direction and finally he invented several machines and spent much money to perfect them; in fact, his farm and lands were absorbed by his efforts.

He worked night and day and soon become known as a crank on the subject and was named "Perpetual Otto." From his farm in Kenosha he came to Racine and built a machine at the old A. P. Dickey factory.

Calling upon the writer, who knew him well, Otto invited him to the shop to see the machine work. The machine was certainly a remarkable one. There were more than fifty wheels, gears, cylinders and weights and when started it would run for a short time and then stop.

Days, weeks and months Otto labored in an effort to perfect the motion only to fail. Suddenly he would disappear, return to the Kenosha farms, work a whole year, earning money and studying the subject.

Then he would return and every time with the claim: "I have got it at last."

But failure met him every time. Possibly fifteen straight years he came regularly, but his hopes never were realized.

He probably invented a dozen different machines and sold considerable stock at one time to apply on his work to get his last machine right.

Finally his mind gave way entirely and he was adjudged insane and committed to the Racine county asylum six or seven years ago. He was completely lost without his machine to work on and it was decided to take it to the asylum. A room in the basement was set aside for him and the hundreds of visitors to the institution would always see him bending over the machine as he file away at the parts and adjusted them. He seldom spoke to any one and some times refused to eat his meals.

To the very last he worked on his pet hobby and was sure that he would soon be heralded to the world as the most famous inventor ever known and that his name would go down into history.

Advices from the asylum state that he had been ailing for about a week and that he died last Sunday. He has relatives living in Kenosha county. The funeral was held yesterday and he was buried in the asylum cemetery.