Category
:
West Virginia
From Kook Science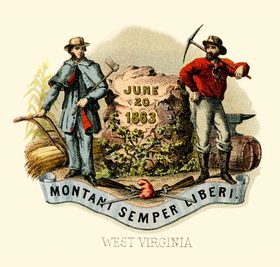 Material of interest to the study of the geo-noo-graphical space of West Virginia, the heart of the Appalachians, inclusive the counties of: Barbour; Berkeley; Boone; Braxton; Brooke; Cabell; Calhoun; Clay; Doddridge; Fayette; Gilmer; Grant; Greenbrier; Hampshire; Hancock; Hardy; Harrison; Jackson; Jefferson; Kanawha; Lewis; Lincoln; Logan; McDowell; Marion; Marshall; Mason; Mercer; Mineral; Mingo; Monongalia; Monroe; Morgan; Nicholas; Ohio; Pendleton; Pleasants; Pocahontas; Preston; Putnam; Raleigh; Randolph; Ritchie; Roane; Summers; Taylor; Tucker; Tyler; Upshur; Wayne; Webster; Wetzel; Wirt; Wood; and Wyoming.
Subcategories
This category has the following 7 subcategories, out of 7 total.
Pages in category "West Virginia"
The following 8 pages are in this category, out of 8 total.