Ignatius Donnelly
From Kook Science
Ignatius Donnelly

"Hon. Ignatius Donnelly, Minn" (c. 1860-5)

Born
3 November 1831
Philadelphia, Pennsylvania
Died
1 January 1901 (69)
Minneapolis, Hennepin Co., Minnesota
Occupation(s)
Politician, lawyer, author
Nationality
American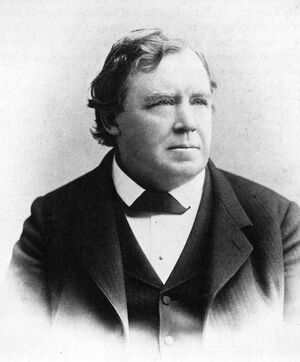 Ignatius Loyola Donnelly (November 3, 1831 - January 1, 1901) was an American politician, lawyer, and writer of various books on esoteric subjects, including his hypotheses on human origins in Atlantis (and a cataclysm that destroyed it) and that Francis Bacon was the author of the body of works attributed to William Shakespeare.
Nininger City, Minnesota
In 1856, Donnelly and his business partner, John Nininger, the town's namesake and brother-in-law of the Minnesota territorial governor, Alexander Ramsey, formed a co-venture to sell plots of land at a site in the Minnesota Territory situated along the Mississippi River, some 25 miles south of St. Paul. The new community was promoted via Donnelly's Philadelphia-based newspaper, The Emigrant Aid Journal of Minnesota (1856-1858), and was quick to boom in the first year, drawing settlers westward from the eastern cities, but was as quickly driven bust by a nation-wide economic recession brought on by the Panic of 1857. By 1869, the city had virtually ceased to exist, save for a few remaining buildings, including Ignatius Donnelly's two-storey house, and is today counted among the many ghost towns of the West.
Forty Years in Politics (1860-1900)
In his political career, Donnelly was first elected as a Republican lieutenant governor of Minnesota (1860-1863), later winning federal election during the American Civil War as the U.S. Representative for Minnesota's 2nd congressional district (1863-1869, 38th-40th Congresses), afterward returning to Minnesota state politics where he was twice elected as a state senator (1874-1878; 1891-1894) and twice as state representative (1887-1889; 1897-1898). He conducted four failed candidacies during his later years, once in 1884 running for Congress as a Democrat, twice for the Governorship of Minnesota in 1892 and 1900 as the People's Party (Populist) candidate, and once as vice presidential nominee on the People's Party ticket of Wharton Barker in 1900.
Selected Bibliography
Reading