W. Gordon Allen
From Kook Science
W. Gordon Allen

Publicity photo of W. Gordon Allen for Radio Willamette-Land advertising, c. 1952

Born
13 May 1920
St. Paul, Minnesota
Died
18 November 1988 (68) [1]
Woodburn, Oregon
Occupation(s)
Radio station manager, owner; publisher
Alma mater
Louisiana Tech (B.S. in Electrical Eng., 1944)[H]
Affiliations
Pacific Lemurian Society

Spouse(s)

Madeline Reynolds (m. 1942)
William Gordon Allen (May 13, 1920 - November 18, 1988) was an American radio station owner and manager, film producer, author, and devoted saucerian, perhaps most well-known for his infamous documentary Overlords of the U.F.O. (1976).
Selected Bibliography
Allen, W. Gordon; Krafft, Carl F. (1959), Space Craft from Beyond Three Dimensions: A New Vista of the Entirety from Which Emerges the U.F.O., New York: Exposition Press Inc., http://amzn.to/2zniBfH

 

Allen, W. Gordon (1966), The Steiner-Tesla Enigma Fantastique, Reno, Nevada: Tesla Radiation Inc.

 

Allen, W. Gordon (1974), Overlords and Olympians: Introduction to Para-Psycho-Physics, Mokelumne Hill, CA: Health Research, http://amzn.to/2gViFw6

 
Allen was also the editor and publisher of Space Craft Digest, Salem, Oregon: Pacific Lemurian Society, 1958-19?? 
Press Coverage
Pacific Northwest Broadcast Empire (1950s-1960s)
W. Gordon Allen Stations
KGAE / KGAY: Salem, OR, 1430 kHz (1952-1961)
Call-sign KGAE from 1952-1956; changed to KGAY from 1956.
"A POWER-FULL 1000 WATTS, 1430 ON YOUR DIAL", Capital Journal (Salem, OR): 14, 31 May 1952, https://www.newspapers.com/newspage/96326946/, "GORDON ALLEN. . . President and director of KGAE in Salem as well as KGAL and KSGA, other Oregon station, was a naval officer during the war and brings 12 years of promotional and operational 'knowhow' to Salem. Winner of an Oregon Radio Press Club award this year for 'Outstanding Contribution to Oregon Radio' he has planned the KGAE 'Radio Willamette-land' operation which in conjunction with KGAL will serve more listeners than any radio operation in Oregon outside of Portland. He says, 'I am most pleased once again to be back in Salem. We feel certain that the friendly voices on 1430 will provide a great deal of entertainment and we extend a cordial invitation to all Salem organizations to use our facilities.'"

 

"Allen Files Radio, TV Applications", Albany Democrat-Herald (Albany, OR): 12, 22 Nov. 1952, https://www.newspapers.com/newspage/441211880/

 

"Salem Broadcaster's Cancer Editorials Bring FCC Probe", Eugene Guard (Eugene, OR): 20, 27 Oct. 1960, https://www.newspapers.com/newspage/154028625/

 
KGAL: Lebanon, OR, 920 kHz (1951-1961)
KSGA: Bend, OR, 1240 kHz (1952-1953)
Call-sign transferred to 1400 kHz in Cottage Wood.
KSGA: Cottage Wood, OR, 1400 kHz (1953-1954)
KBAM: Longview, WA, 1220 kHz (1955-1959)
KTIX: Seattle, WA, 1590 kHz (1956-195?)
Willamette-Land Television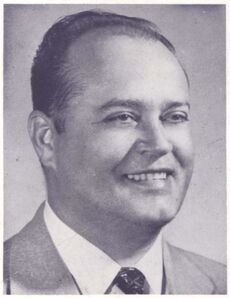 Oregon Democratic Party (1958)
A short-lived candidacy for State Senator in Marion Co. on the Democratic ticket; Allen withdrew in June.
Space Craft from Beyond Three Dimensions (1958-'59)
Stevens, Robert L. (1 Aug. 1958), "Advocate of Flying Saucers Lectures Club", Statesman Journal (Salem, OR): 6, https://www.newspapers.com/newspage/81233132/, "Allen disagreed with U.S. Air Force's studied on flying saucers, he said the moon is inhabited by little quasi-human people with high intelligently minds, and flying saucers are constantly 'spoofing' America's Dewline radar defense[...] The Salem man claimed he has seen workable models of flying saucers ascend and buzz around uninhibited. He said these models, which the inventors refuse to patent, were based on a vortex theory of electrical flight. This involves two doughnut-shaped protons spinning in opposite directions, like a generator. The spin, plus some ether, he said, degravitizes the whole business and up goes the saucer. He said the Air Force is not telling the truth when it says there have been no pictures taken of authenticated flying saucers. He also says the Air Force is spending billions of dollars developing an outmoded means of space travel — rockets. Allen zoomed along with illustrations of various sighting instances, circled his audience with tales of 4,000-foot diameter saucers and finally landed on the supposition that 'the nation who finally perfects electrical flight will be able to control the earth.'"

 

Hewins, Kenneth F. (19 Jan. 1959), "Book by Tech Grad — Unidentified Flying Objects Supported", Shreveport Journal (Shreveport, LA): 15, https://www.newspapers.com/newspage/601153041/, "Traffic from out of this world and return may have been going on always; and 'pure electrical propulsion' — not rockets — is the answer. That's from W. Gordon Allen, a Louisiana Tech graduate in electrical engineering, who undertakes to prove the existence of Unidentified Flying Objects (UFO) in a book based on seven years of investigation."

 

Alexander, Charles (31 Jan. 1959), The Green Cheese Men of Uno Where Visit Gordon Allen, "Book Briefs and Best Sellers", Albany Democrat-Herald (Albany, OR): 10, https://www.newspapers.com/newspage/442114151/, "It would be thought W. Gordon Allen's eight radio stations in the Northwest, including one in Linn county, would offer enough outlet for his varied propensities. That seems not to be the case, because he's gone out and tackled the mysteries of space and the veiled purlieus of the mind."

 
"Anyone See a Ghost?", Statesman Journal (Salem, OR): 4, 7 Aug. 1960, https://www.newspapers.com/newspage/80296774, "Take Albany, for instance. Things were getting pretty dull after all the excitement of the Timber Carnival. Then along comes the Conser Lake ghost a'screaming in the night, frightening teen-agers parked out along the road. The Albany radio station, owned by flying saucer enthusiast Gordon Allen, launched a ghost hunt. Everyone gets into the 'spirit' of the thing and first thing you know there are reports of a man hospitalized with shock after seeing the ghost. Someone else tells how the ghost chased a truck down the road. Weird, ghost-like noises are heard. Folks start packing guns and staying indoors at night. The Linn county sheriff George Miller is not nearly as worried about the ghost as he is about all those skittish people carrying guns."

 
Tesla Radiation Inc. (1965)
"Plan Opening Firm Here", Paradise Post (Paradise, CA): 3, 20 Aug. 1965, https://www.newspapers.com/newspage/682543578/, "Tesla Radiation Inc., a Reno, Nevada, Corporation, plans to open the offices for a small private research laboratory in the Paradise area, one of the company officers, Dr. William G. Allen, announced this week. Dr. Allen, well known Pacific Coast businessman, author and science lecturer, had been in the Chico-Paradise area for the last month to select the location for the laboratory. In one process which is being licensed to mining corporations over the world the concern has access to methods of the enrichment of ores by high energy bombardment, according to the announcement. The main function of the Paradise offices of the corporation will be to oversee the projects in research farmed out for development by other scientists in Japan [and] Austria."

 
Bankruptcy (1967)
Bankruptcy Fraud (1972)
"Court Convicts Ex-Butte Man On Bankruptcy Fraud Charge", Sacramento Bee (Sacramento, CA): 22, 28 Jan. 1972, https://www.newspapers.com/newspage/620153025/, "W. Gordon Allen, a research scientist and electrical engineer once employed by the Boeing Aircraft Co. in Seattle, Wash., was convicted last night in US District Court here of concealing an estimated $75,000 in assets when he filed for bankruptcy more than five years ago[...] Among the assets uncovered during the bankruptcy proceedings, Babcock said, were a $30,000 contract for the sale of a Washington radio station, an $18,000 note on the sale of a house, $6,000 in life insurance policies and $16,000 in a bank account opened in the name of a "dummy corporation" called Tesla, Inc., in Nevada. Babcock said Allen had $40,000 in a Swiss bank account around the time he filed for bankruptcy, most of which was eventually transferred to the Tesla account. He said Allen used the Tesla account to pay personal bills."

 
Overlords of the U.F.O. (1976)
Ghosts of Livesly House (1987)
Blankenbaker, Ron (14 Nov. 1987), "Get ready, ghostbusters", Statesman Journal (Salem, OR): 8, https://www.newspapers.com/newspage/200779044/, "W. Gordon Allen, a former Salem radio station owner now residing in Woodburn, owned and lived in the [Livesly House at Salem, Oregon, also known as Mahonia Hall, presently official residence of the Governor of Oregon] from 1961 to 1965. He says T. A. Livesly's ghost regularly visited him in the second floor master bedroom. 'The old guy would sit on the foot on my bed regularly, every third or fourth day the entire time I lived in the house,' Allen said. 'Conversation with the ghost was telepathic,' Allen said, adding that his wife in a nearby bed never saw the ghost. 'He wore a black robe and seemed very said,' Allen said. 'There was a real weight to him when he sat upon the bed.' Allen, who at one time owned eight radio stations in the Northwest, is now retired. He said he's been talking about his experiences with the Livesly ghost for years. 'I wondered if the old guy was still there,' was Allen's reaction when he heard the house had been purchased for the governor."

 
References
↑ "Oregon Death Index, 1903-1998," database, FamilySearch (https://familysearch.org/ark:/61903/1:1:VZHH-ZHJ : 11 December 2014), William Gordon Allen, 18 Nov 1988; from "Oregon, Death Index, 1898-2008," database and images, Ancestry (http://www.ancestry.com : 2000); citing Marion, Oregon, certificate number 88-21758, Oregon State Archives and Records Center, Salem.