Mountain Devils of Mount St. Helens
From Kook Science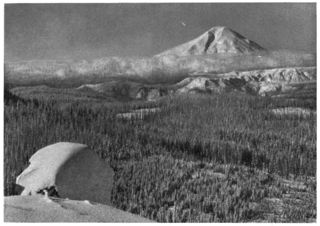 Mountain Devils of Mount St. Helens is a press label for a group of crypto-hominids, "mountain gorillas," or otherwise unknown entities that were reported to have attacked a prospecting party - including Fred Beck, Roy Smith, and others - in early July 1924. According to news articles on the alleged incident, the creatures, in some tallies numbering thirty, hurled stones and attacked the group's cabin at a gorge on the southeast shoulder of Mount St. Helens, some eight miles from Spirit Lake. The prospectors reported that they fought back using rifles, allegedly killing one and wounding others, before fleeing after several days; however, no remains were found when forest rangers returned to the scene.
Related articles from Native American contributors, including Jorg Totsgi of the Klallam (Clallam) Tribe, linked to incident to the activities of the Seeahtik, "strange giant Indians" with "hairy bodies like a bear," possessing knowledge of bird imitation, ventriloquism, and hypnotic suggestion.[T]
The area where the incident was said to have taken place was later named Ape Canyon.
Press Coverage
"FIGHT WITH BIG APES REPORTED BY MINERS - FABLED BEASTS ARE SAID TO HAVE BOMBARDED CABIN - ONE OF ANIMALS, SAID TO APPEAR LIKE HUGE GORILLA, IS KILLED BY PARTY - They Saw 'Devils'", The Oregonian, 13 July 1924

 

"Party is to hunt for 'Mountain Devils'", The Oregonian, 14 July 1924

 

"Giant Gorillas Terrorize Party In North Woods", Ponoma Progress Bulletin (Ponoma, CA): 1, 14 July 1924, https://www.newspapers.com/newspage/623067300, "KELSO, Wash., July 14. LED by Forest Ranger C. M. Parker, an expedition started from here this morning into the heart of the Spirit Lake country to search for the 'mountain devils,' a band of giant gorillas which five badly frightened prospectors said had chased them from the woods after an intermittent three-day battle. With Parker are Frank Helm and F. S. Bailey. The men are armed for big game and also carry photographic equipment. The prospectors, all veterans of this district, are Marion and Roy Smith, J. Peterson and Fred Beck. According to their story, they were attacked several times by the weird beasts, succeeded in killing one and wounding several and finally fled from the woods themselves after they had been prisoner an entire night by a cordon of thirty gorillas."

 

"Kelso Unbelieving; Think Imagination Produced Gorillas", Eugene Guard (Eugene, OR): 6, 15 July 1924, https://www.newspapers.com/newspage/97178655/, "KELSO, Wash., July 15. — Figments of the imagination! That's what the tales of 'mountain devils' and 'rock tossing gorillas' as told by Marion Smith, Roy Smith, Fred Beck, J. Peterson and Gabe Lefever, are believed to be by Kelso residents. It is said all five men are spiritualists and hold frequent seances in the woods. It is believed they encountered bear cast of Mount St. Helens and due to their state of mind thought them to be strange animals, such as are related in old Indian fables."

 

The Oregonian, 15 July 1924

 

"Expedition Ready To Begin Hunt For 'Mountain Devils'", Eugene Guard, 15 July 1924, https://www.newspapers.com/newspage/97178647/

 

"SAYS STORY OF 'DEVILS' IS ALL BUNK", Modesto Evening News, 15 July 1924, https://www.newspapers.com/clip/11331698/fred_beck_spirit_lake_bigfoot_story/

 

Totsgi, Jorg (16 July 1924), "BIG HAIRY INDIANS BACK OF APE TALE - Mountain Devils' Mystery Grows Deeper - GIANTS SAID TO ROAM HILLS - Shaggy Creatures Kill Game by Hypnotism, It Is Said - VENTRILOQUISM IS USED", The Oregonian, http://www.olympicproject.com/1924-oregonian-july-16/

 

"APE HUNT TO FAIL, INDIANS PREDICT - SEEAHTIKS SAID TO ROAM AT SPIRIT LAKE - STRANGE EVENTS RELATED - BIG BREASTED GIANTS TAKE REVENGE ON TRIBESMEN - CEDAR IS LEFT ON DEAD - SHAGGY MONSTERS REPUTED TO BE STRONG ENOUGH TO PULL OFF HEADS OF HUMANS", The Oregonian, 17 July 1924, http://www.olympicproject.com/1924-oregonian-july-17-follow-up/

 

"'GORILLA MEN' HELD A MYTH BY 2 RANGERS - Footprints Made With Knuckles of Hands — Abyss Where Ape Man Fell When Wounded Contains Nothing — Smith Party Still Clings to Story.", Medford Mail Tribune (Medford, OR): 1, 17 July 1924, https://www.newspapers.com/newspage/104012603

 

"'DEVIL' HUNT ABANDONED IN WASH.", Santa Ana Register, 23 July 1924, https://www.newspapers.com/clip/11331989/devil_hunt_abandoned_in_wash_fred/

 
Later Accounts