George Starr White
From Kook Science
George Starr White

As pictured in "My Biografy"

Born
13 July 1866
Danbury, Connecticut
Died
28 November 1956 (90) [1]
Los Angeles, California
Nationality
American
Alma mater
New York Homeopathic Medical College (1908)
Los Angeles College of Chiropractic (1921)
Field(s)
Medicine

Spouse(s)

Hattie A. [White] (m. 1889; dv. 1913); Ada Rossman (m. 1913); Deborah Logan (m. 1922; dv.1937); Jane [White] (m. 1938)
George Starr White (July 13, 1866 - November 28, 1956) was an American physician, chiropractor, and inventor of many chromotherapeutic apparatus, radionic devices, and other types of medical nostrums. By his own accounting, White diagnosed nearly a quarter of a million cases, and penned over a hundred books.
Background
George Starr White was born on a homestead near Danbury, Connecticut in July 1866, the third child of parents William and Mary Elizabeth (nee Nichols), named for friend of the family George Starr. His recollections of his first years are pastoral and idyllic, and he claimed for himself the status of prodigy from the start, distinguishing himself in the study of naturalism, and held that he had discovered his ability to see "auras" (psycho-magnetic radiations) at around the age of five. White described himself as having been a well-disciplined and physically strong youth, the type to never back down or lose a fight, and boasted to having developed an uncanny expertise in trick horse-back riding and acrobatics, to such a degree that, he claimed, P.T. Barnum himself had been impressed enough to attempt to hire him as a "child performer" for $50 a week.
In his late teens, White began private medical studies as an assistant to Dr. A. T. Clason, and later to Dr. Emerson E. Snow, during which time he first developed a practice of Electric-Light Treatment using early Edison lamps. After some three years studying under preceptors Clason and Snow, the still young White relocated to New York City to earn a degree in medicine. However, once in New York, White claimed to have been denied opportunity to matriculate at University of the City of New York (New York University), and sought to attend Yale University, but abandoned the application after discovering his studies under Clason and Snow would not qualify him for placement.
His educational plans foiled, White turned to manufacturing baby food for city doctors, building a business enterprise that brought him a fortune over the years that followed, and, according to him, no shortage of jealous rivals, in particular corrupt officials from the Board of Health, who, in failing to secure bribes, sought to harass, blackmail, and even assassinate White. One such attempt on White's life culminated, in his account, with his verbal brow-beating and shaming of the armed men until they surrendered to him, while other incidents White described involved the physical assaulting and threatening his would-be attackers.
(Although unmentioned in his "Biografy," shortly after his arrival in New York, in December 1889, White was married; Mrs. Hattie A. White remained his wife during his years in Brooklyn and Yonkers. Dr. White would eventually file for divorce in 1913, claiming in court that his wife "insulted his customers and ruined his business," in addition to once attacking him with a hairpin and pouring ammonia over him.)[2]
White saw conspiracy everywhere in his New York days. He reported dubious legal suits were routinely mounted against him, and he firmly believed his manufacturing business was suffering by internal sabotage. The sudden death of his "silent partner," an incident he alluded may have been foul play, led to White's organising of a "secret service" of private investigators to dig up dirt on his corrupt rivals in the Board of Health and to monitor suspect workers within his own company.
By early 1904, then in his late thirties and established in New York City, White was able to secure admission to an unnamed medical school. He was perpetually on-guard against attack, and continued to feel persecuted by a conspiracy of "organized medical men," whom he wrote harassed and extorted him during his time at the school, causing him to employ his private investigators to spy on classmates and professors to counter-blackmail them. After two years, White transferred to another college to complete his degree (likely the New York Homeopathic Medical College); his time at the new school was no better, as he reported being poisoned during a dinner, a laboratory accident that left his eyes injured, and a failed attempt by a professor to deny him his degree.
Dr. White would remain in New York for another five years following his graduation, a period of continuing strife in which, he claimed, he would routinely find himself accosted to participate in scams and get-rich-quick schemes with public officials and private businessmen, bearing witness to the terrific corruption of all medical bodies in the city. By his reckoning, the extortion and attacks were so much that it eventually drove him to flee New York in 1913, selling out his baby food business and moving westward.
(After divorcing his first wife, White immediately remarried, taking Ada Rossman, a Reno-based stenographer, as his second wife.)[2]
After some months in Nevada, during which time he reported having secured his medical credentials to practice in that state, White finally relocated himself and his new wife to Los Angeles, California, where he would reside for the rest of his life.
In 1921, White's second wife, Ada, died under circumstances that her family found suspicious, believing she had been poisoned, though White was ultimately exonerated of any wrongdoing by the coroner's office.[3][4][5][6] He promptly remarried, taking twenty-year old Deborah Logan, the daughter of socialites Sara and Robert Logan of Philadelphia, as his third wife; this marriage was the source of a great deal of acrimony, as Logan's parents accused White of using hypnosis to lure their daughter away.[7][8]
[...to be continued]
Inventions and Innovations
White's B-D-C - Bio-Dynamic-Chromatic Diagnosis - was similar to the Electronic Reactions of Abrams (ERA),[9] insofar as the abdomen was the region of focus used for determination of diagnosis; however, it differed slightly, as White incorporated his theories of chromopathy into the method, utilising coloured light rays to assist in his diagnostic.
Also known as "Rithmo-Chrome-Dynamo-Chromatic Therapy," a method involving "treatment by means of rhythm, complementary colors and the magnetic forces of the earth — all in harmony or tune with the patient,"[10] which was effected through the use of a "Rithmo-Chrome" device, similar in nature and function to Dinshah Ghadiali's Spectro-Chrome.
Filtered Ultrared Rays and Filteray Pad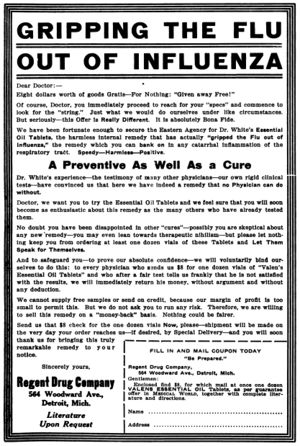 Patent Medicines
In addition to his therapeutic systems and devices, White also offered his support for patent medicines, such as Flaxolyn Compound, and prepared his own, including the Valens Essential Oil Tablets, which were promoted during the 1918 influenza pandemic as "Gripping the Flu out of Influenza".
THE GOLDEN PLANET
Being home to the highest forms of humanity, worshippers of THE GREAT LITE, and the true home of George Starr White, as detailed by the doctor in his later years.
"Between January 1, 1901, and January 1, 1904 (exact date purposely omitted) in the spring time, I had a great experience. Something happend that made me apparently 'dead' for about twelve hours. The Portals of 'Death' were opend by the Key of Life. My soul, or spirit, was liberated, and I behld the Great Lite, and I felt the Guiding Power escort me thru Endless Space and open up to me the Plan of the Universe." (My Biografy, p. 129)
Selected Bibliography
By his account, George Starr White authored over one hundred books, many later volumes using "Simplified Spelling".
White, George Starr (1921), Youth Obtaind and Retaind, Los Angeles: George Starr White

 

White, George Starr (1927), Un-helth Can Be Changed to a State of Helth Thru Natural Methods

 

White, George Starr (1928), The Story of the Human Aura

 

White, George Starr (1929), Finer Forces of Nature in Diagnosis and Therapy

 

White, George Starr (1936), My Biografy: Compiled from the Author's Personal Diaries and Yearly Record Books since 1876

 

White, George Starr (1940), Cosmo-Electro Culture for Land and Man

 

White, George Starr (1945), A Book of Revelations: A True Narrative of Life on Many Planets

 
References