Edward K. Earle
From Kook Science
Edward K. Earle

"Rev. Edward K. Earle, THE NOTED PSYCHIC": portrait from advertising for his 1920 tour

Born
Edward E. Keeley
4 August 1861
Zanesville, Muskingum Co., Ohio
Died
2 February 1935 (73)


Spouse(s)

Marguerite Estes (m. 1882, d. 1896);[1] Alice Slyter (m. 1898, dv. 1909); Mabel E. Keeley (d. 1912)[2]
Edward K. Earle (August 4, 1861 - February 2, 1935), also known as Edward Earle Keeley,[3] was an American clairvoyant and test medium, self-described from early in his career as "the world's greatest independent slate writer." Earle actively toured the United States from the 1890s through the 1930s, and was associated with a variety of Spiritualist camps, chatauquas, churches, and allied organisations during that time, including the Angelus Spiritualist Temple, National Independent Spiritualist Association, and the Universal Church of the Master.
Background
Prior to his career as a slate medium, Keeley was the publisher of the Dramatic Star in Seattle, a magazine on stage actors, and also a producer of stage and show, including mediums. His daughter, Edna Keeley, was famed as a child actress.
Press Coverage
1890s
Classified advertisements for Earle's services appear in the Oakland Tribune in the summer of 1895, the San Francisco Examiner in 1896, Los Angeles Herald in early 1897, returning to San Francisco in both Chronicle and Examiner later that year. By late 1897, Earle was reported to have gone to the Klondike Territory, and returned in August of the following year to Seattle, supposed to have found his fortune in the gold fields.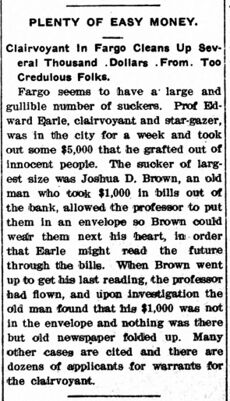 1900s
1910s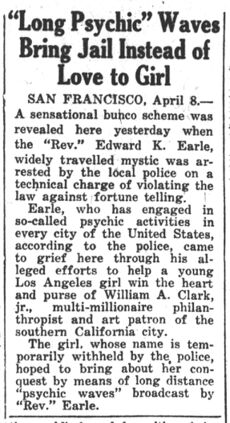 1920s
References
↑ "MRS. KEELEY DEAD. QUICK CONSUMPTION CLAIMS A WOMAN WELL KNOWN HERE. After the Big Fire Her Husband Started the First Waffle House in the City — He Made Money, and Later Mrs. Keeley Went on the Stage Under the Name 'Marguerite De Estes' — Mother of the Child Actress 'Little Edna'", Seattle Post-Intelligencer (Seattle, WA): 3, 10 Nov. 1896, https://chroniclingamerica.loc.gov/lccn/sn83045604/1896-11-10/ed-1/seq-3/

 

↑ "WOMAN SUICIDE BLAMES HUSBAND. Wife of Dr. E. Keeley Writes Note Reproaching Him, Then Turns on Gas.", San Francisco Call (San Francisco, CA): 19, 31 Mar. 1912, https://www.newspapers.com/newspage/80825093/

 

↑ Alternately, Edward Ellsworth Keeley, per https://www.keeleyfamily.org/getperson.php?personID=I67&tree=Keeley