Ancient Order of United Workmen
From Kook Science
Ancient Order of

United Workmen




Charity, Hope & Protection (C. H. & P.)

Motto
Alterum Alterius Auxilio Eget ("Each Needs the Help of the Other")
Formation
27 October 1868
Meadville, Crawford Co., Pennsylvania
Dissolution
1952 (as national org.; Grand Lodges continued to operate independently)
Purpose/focus
Mutual benefit society
Membership
320,000 (in 1895)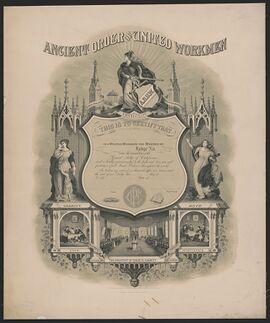 The Ancient Order of United Workmen (AOUW) was a North American fraternal benefit society, formed by John Jordan Upchurch and other members of his local League of Friendship of the Supreme Mechanical Order of the Sun in 1868 at Meadville, Pennsylvania. Its main practical purpose was the offering of health and life insurance policies to members who were largely drawn from the white working class, and its ritual and symbolism borrowed heavily from Freemasonry, substituting masonry in particular with a more general vocabulary of worker.
Structure
See our page on Lodges of the A.O.U.W. for index of local Lodges
The United Workmen were organised into local Lodges, these presided over by a Master Workman and their officers, each lodge existing under the jurisdiction of the Grand Lodge on the state or provincial level (or the directly under the Supreme Lodge where no Grand Lodge existed). The Supreme Lodge, the national body of the order, operated with varying levels of influence over the Grand Lodges during its existence, being eventually replaced by a Congress of Grand Lodges in 1929, which in turn lasted until 1952.
Auxiliaries
Degree of Honor (D. of H.) lodges were organised as a women's auxiliary, "intended to promote union, sympathy and friendship among the wives, daughters, mothers, and sisters of members of the Order."[1] The D. of H. lodges would eventually form their own Superior Lodge in 1896, and by 1910 became an independent organisation, the Degree of Honor Protective Association.
Further Degrees
In addition to the main set of four (later reduced to three) degrees within the A.O.U.W. ritual, members could further opt to take an endowment rank, the Grand Legion of Select Knights, for extended insurance. A side degree known as the Ancient Order of Adhesive Mogullians, intended to "furnish amusement as well as substantial benefits"[2] (and likely mainly the former), was likewise instituted by certain humour-minded members.
Ritual
Reading
References
↑ "XV. Degree of Honor", Digest of the Constitutions, Laws and Decisions of the Ancient Order of United Workmen: As Adopted by the Supreme Lodge, at Its Seventh Annual Session, at Nashville, Tenn, March, 1879, Ancient Order United Workmen, Supreme Lodge, 1879, p. 98, https://books.google.com/books?id=VLNIFkaC4ekC&pg=PA98&lpg=PA98

 

↑ Stevens, Albert C., ed. (1907), "Ancient Order of United Workmen", The Cyclopædia of Fraternities (2 ed.), New York: E.B. Treat and Co., p. 221, https://babel.hathitrust.org/cgi/pt?id=mdp.39015020238435;view=1up;seq=157, "In imitation of the so-called Masonic "side degree," the Workmen, who, by the way, are not necessarily artisans, and in no sense constitute a trades union, confer what is officially entitled the Order of Mogullians. This is said to furnish amusement as well as substantial benefits."