William M. Elias
From Kook Science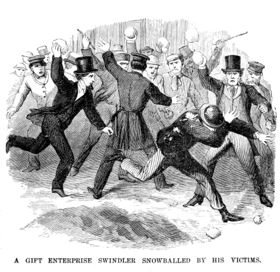 William Moses Elias (August 12, 1841 - July 3, 1927) was an American merchant and businessman, noted as one of the Elias Brothers, who, under the leadership of Ellis H. Elias, were counted as the preeminent swindlers in New York City during the 1870s.[2] In the nostrum world, Elias's brief involvement in the galvanic battery trade led to his patenting of the Elias Electro Galvanic Medal.
References
↑ 1.0 1.1 Grave marker of Wm. M. Elias (findagrave.com): b. Aug. 12, 1841; d. July 3, 1927
↑ "Bankruptcy of the Eliases". The Expressman's Monthly (Cincinnati, Ohio) 4 (1): pp. 22-23. January 1879. https://books.google.com/books?id=UnFMAAAAYAAJ&pg=PA22&lpg=PA22

. Retrieved 2015-11-15

. "The Elias Brothers, William M. and Ellis H., credited with the 'sawdust game, Milton jewelry, and countless lottery and gift enterprise' schemes; friends of the late 'Dollar Store' under the Grand Central Hotel; dealers in watches and all sorts of 'jewelry,' and probably the greatest and most successful operators on the confidence and cupidity of the virtuous countrymen who have held forth in New York during the past ten years..."