Royal Antediluvian Order of Buffaloes
From Kook Science
Royal Antediluvian Order of Buffaloes
Motto
Nemo Mortalium Omnibus Horis Sapit
("No mortal is wise at all hours.")
Formation
Late 18th century
(or) August 1822
Purpose/focus
Fraternal Social Order
Headquarters
England
Founders
George Cooper Murray
(or) Joseph Lisle
Website
http://www.raob.org.uk/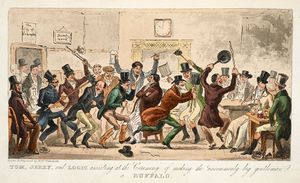 The Royal Antediluvian Order of Buffaloes (R.A.O.B.) is an English fraternal order, generally believed to have been founded by Joseph Lisle, William Sinnett, and others involved with the theatre at London, England in 1822, though it has also been claimed that Buffaloism was founded by George Cooper Murray in the late 18th century.[1] In the former case, the name said to be inspired by a then-popular ballad "We'll Chase the Buffalo,"[2] with an initiation rite veering into the realm of the burlesque; in the latter, the origins of the Buffalo name is attributed to a mistranslation of Harpocrates (the founding lodge) as "son of the bull or buffalo."[1]
Structure
The modern ROAB is organised into local Minor Lodges, these under the leadership of the Worthy Primo and their officers, the City Marshall, City Secretary, City Treasurer, City Chamberlain, City Tyler, City Constable, City Registrar, City Minstrel, City Waiter, Alderman of Benevolence, and Trustees; and these local Lodges are under the jurisdiction of Provincial Grand Lodges, and, ultimately, the Grand Lodge.
In the ritual work of the order, an individual Buff moves through four degrees: Brother (Kangaroo); Certified Primo; Knight of Order of Merit (Knight Sir); and Roll of Honour (Right Honourable).
Resources
Foundation of the Buffaloes
by George Cooper Murray
by Joe Lisle, et al.
Cook, Eliza, ed. (31 July 1852), "The Antediluvian Order of Buffaloes, and Other Orders", Eliza Cook's Journal 7 (170): 209-211, https://books.google.com/books?id=VbwCAAAAIAAJ&pg=PA209

 

Egan, Pierce (1887), "The Buffaloes", Finish to the Adventures of Tom, Jerry, and Logic, in Their Pursuits Through Life In and Out of London, London, p. 116-118, https://archive.org/stream/pierceegansfinis00eganrich#page/116/mode/2up

 
20th Century Buffaloes
References
↑ 1.0 1.1 Ellis, Charles Edward (1910), "Royal Antediluvian Order of Buffaloes", An Authentic History of the Benevolent and Protective Order of Elks, p. 13-19, "The Grand Arch Primo, who founded Buffaloism in the latter part of the 17th century, was George Cooper Murray, or rather this name is a hidden key containing his name, which only the initiated in that order may know[...] The first Buffalo lodge established in London was called the Harpocrates Lodge, which means the son of the bull or buffalo."

 

↑ Egan, Pierce (1888), Hindley, Charles, ed., The True History of Tom and Jerry; or, the Day and Night Sciences, of Life in London from the Start to the Finish!, London: Charles Hindley, p. 162-163, https://babel.hathitrust.org/cgi/pt?id=yale.39002007164578;view=1up;seq=208, "Buffs — Buffaloes — and Buffaloism. — A society held at the Harp Tavern in Great Russell Street, opposite Drury Lane Theatre, and was first established in August, 1822, by an eccentric young man of the name of Joseph Lisle, an artist, in conjunction with Mr. W. Sinnett, a comedian, to perpetuate, according to their ideas upon the subject, of that hitherto neglected ballad of "We'll chase the BUFFALO!""