Joseph Lisle
From Kook Science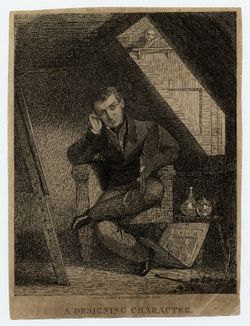 Joseph (Joe) Lisle was a British caricaturist and satirical artist, noted as the founder of the Royal Antediluvian Order of Buffaloes. Among other works, he published "Joe Lisle's Play Upon Words" (1828), and contributed a frontispiece to "The Dens of London Exposed"[1] (1835; may have been written by Thomas Miller).[2]
Resources
Digital Prints
References
↑ "395. LONDON, The Dens of, Exposed, with fearfully coloured frontispiece by Joe Lisle, fcap. 8vo, original boards, uncut, 10s 6d. Published by the Author, 1835", Sotheran's Price Current of Literature (London: H. Sotheran & Co.): 20, 1890, https://books.google.com/books?id=2d-TgRt-J44C&pg=RA3-PA20&lpg=RA3-PA20

 

↑ "London "Low Life," and London "Dens."", Notes and Queries: A Medium of Inter-Communication for Literary men, Artists, Antiquaries, Genealogists, Etc. (London: Bell & Daldy, 186 Fleet Street) 4 (83): 88-89, 1 August 1857, https://books.google.com/books?id=TTXHOIBaEUkC&pg=PA88&lpg=PA88, "I suspect the work to be one of the first literary trials of the "basket-maker" author, Thomas Miller; nor ought he, as I conceive, to be ashamed of its paternity, the purpose being as useful, as much of the writing is graphic."