Richard Ulram
From Kook Science
Richard Ulram

Ulram and the Perpetual Motion Machine (c. 1924)

Born
21 August 1874
Vienna, Austria-Hungary
Died
26 February 1947 (72)
New Jersey
Nationality
Austrian; American (nat. 1917)[1]

Known for

Claims to have invented a perpetual motion machine
Richard Ulram (August 21, 1874 - February 26, 1947) was an Austrian-born entrepreneur and inventor who claimed to have designed a perpetual motion machine, founding and selling stock for the Perpetual Motion, Power, Heat & Light Co. to finance its development and implementation, and who later founded the Society of Paradiseism.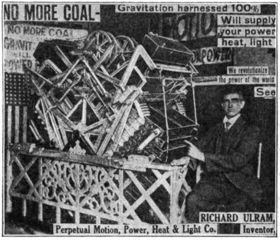 Perpetual Motion, Power, Heat & Light Co.
Ulram's company was first founded at Detroit, Michigan in around 1916, and shortly thereafter relocated to New Jersey. From his residence/office at 107 Roadroad Ave. in Jersey City, Ulram gave demonstrations of his model for a perpetual motion machine, "the world's greatest invention," and solicited people to buy stock in his company, making his preliminary offering at 10 cents a share (against a par value of $100, the company being capitalised at $25 million, so 250,000 shares made available). It is unclear how long efforts to promote the company continued, but he had converted his office into a barber shop by the early 1930s, offering haircuts at 10 cents a chop, which would became a violation of price regulations passed in 1933 that set the minimum to 50 cents, drawing Ulram into a legal fight with New Jersey officials and the National Recovery Administration.[2][3]
Promotional Poetry
Invest with us, multiply your money a thousandfold.
Investigate at once — act quick before this stock is sold.
You buy our Power, Heat and Light, without you may feel cold.
You know, Perpetual Power will monopolize the world.
Invest with us — or not — eventually we will get your gold,
Therefore be wise; act quick before this stock is sold.
Be a leader, but share honest with your fellowmen.
Some foolish expect their fellowmen to think for them,
And to perfect everything you must for them, they claim,
And then step aside and hand everything over to them again.
So be wise — Invest in the exhaustible power of gravity.
You help yourself and also you work to better Humanity.
Ten times we reduce the price for Power, Heat and Light in fee;
We harness gravity — the Scientific World calls an impossibility.
We kindly ask: Please attend one of our demonstrations,
Free of charge — with or without one of our invitations.
Press Coverage
Selected Bibliography
Ulram, Richard (1940), The Emissary; The Key to Heaven. Final Eternal Facts of God in Actuality Versus Satanic-Inspired Falsehood (Religion), Jersey City, N.J.: Society of Paradiseism

 
References