Peter O. Elliott
From Kook Science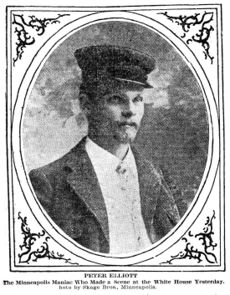 Peter Olson Elliott (c. 1869 - May 22, 1904) was a machinist and inventor of Scandinavian origins who came to notoriety after being arrested at the White House in October 1903 while seeking a meeting with President Theodore Roosevelt, purportedly to assassinate him. The national press portrayed Elliott as having been driven insane in his attempts to develop a perpetual motion device, a common claim in the era, while Minnesota newspapers described him as a known paranoid eccentric and socialist agitator with delusions of grandeur who had routinely claimed contact with Roosevelt. Just over a month later, in November 1903, Elliott was reported as having been discharged from custody after being evaluated by authorities at the St. Elizabeth's Hospital for the Insane in Washington, D.C., though seems to have been subsequently held at the St. Peter Asylum for the Insane in St. Paul, Minnesota, where he was said to have escaped from after a short stay. He resurfaced again at Minneapolis in late May 1904, being arrested and held briefly by local authorities, only to hang himself from a railroad bridge a day later.
Inventions
After Elliott's death, local Minnesota newspapers published reports on notes and letters found among his personal effects, including a long letter seemingly in Swedish that was claimed to be untranslatable, as well as records of certain curious inventions, including a musical device proposed for the Exposition Universelle (Paris Exposition) of 1900, described as "a mammoth steam calliope[...] of monstrous size, so gigantic that six or eight big high-pressure boilers would be required to furnish the steam," which would "have a range of about three octaves, or twenty-eight notes to be exact, with every whistle powerful enough to be heard all over Paris."[MJ]
Though some reports following his arrest in 1903 indicated Elliott had been working on perpetual motion, any notes he may have had regarding such efforts were not publicised subsequent to his death.
Press Coverage