Olombia Commonwealth
From Kook Science
New Columbia United State of the World



Government
 • 
President
William H. Von Swartwout
Declared nation
 • 
Declaration of Independence
24 December 1886
28 September 1890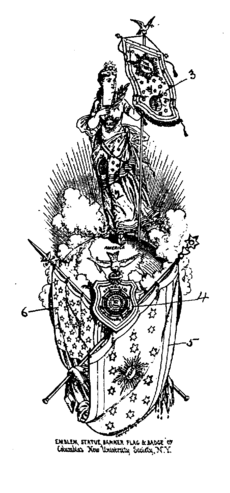 The Olombia Commonwealth, or New Columbia United State of the World (N.C.U.S.W.), was a declared nation, founded by William H. Von Swartwout in his "The Jubilee Emancipation Proclamation and Declaration of Independence" of 24 December 1886 at London, proclaimed again on 28 September 1890 at New York City. The founding principles of the state were the abolition of money and a turn to organised labour; however, as you might suspect, the Commonwealth received little by way of support, and all claims and titles were effectively suspended following the death of President Von Swartwout.
One of the advocated means of establishing the new commonwealth on a firm footing was a plan to rename the United States of America to the Olombia Commonwealth, thereby effectively dissolving the U.S.A. and absorbing it into Von Swartwout's nation. This would be done by soliciting popular support, having would-be citizens of the Commonwealth voluntarily sign the Olombian declaration of independence.
Resources
Von Swartwout and Supporters
Von Swartwout, William H. (1892), Olombia or The New Political Economy. Grand Transformation of the United States, England and the World! The only Practical Solution of the Land, Money, Barter, Labor, Capital, and all other Questions of the Day.

 

Von Swartwout, William H. (August 1894), An Open Letter to the Committee of Constitutional Convention at Albany, State of New York. By the Author of "Olombia, or, The New Political Economy," etc. New York, August 1894, https://www.loc.gov/resource/rbpe.1300130e

 

Von Swartwout, Janet (1895), Heads or The City of the Gods: A Narrative of Olombia in the Wilderness, New York: Olombia Pub. Co.

 
Articles on the Project
Arndt, Karl J.R. (1973), "Koreshanity, Topolobampo, Olombia, and the Harmonist Millions", Western Pennsylvania History: 1918-2015 56 (1): 71-86, https://journals.psu.edu/wph/article/download/3202/3033

 

"PROPAGANDA OF THE "OLD." New York's Onota in a Universal Olombian Seance. Dr. von Swartwout Tells How to Eliminate What Does Not Exist.", The Evening World (New York): 1, 21 December 1892, http://chroniclingamerica.loc.gov/lccn/sn83030193/1892-12-21/ed-1/seq-1/

 

"OLOMBIA THE NEW NATION; Apostle Von Swartwout Comes Here to Manifesto Congress. OLD ORDER OF THINGS TO PASS; Money, Barter, Trade, Corporations, Deeds, Bonds, Notes, and Stocks to Be Abolished. New "Order of Builders" to Prevail — His Occult Coat-of-Arms — Millennium at Hand.", Washington Times (Washington, D.C.) 1 (99): 8, 24 June 1894, http://chroniclingamerica.loc.gov/lccn/sn87062244/1894-06-24/ed-1/seq-8/

 
See also