Martyn College
From Kook Science
Martyn College of Oratory
Formation
1884, founded
1892, incorporated
Dissolution
c. 1895
Purpose/focus
Courses on public speaking, acting, general self-improvement
Headquarters
Washington, D.C.
Founder
Francis G. Martyn
President
Webster Edgerly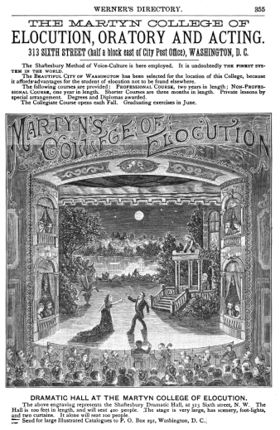 The Martyn College of Elocution and Oratory (or simply Martyn College of Oratory; later Martyn College of Expression and Physical Culture) was an American educational organisation, founded by Francis G. Martyn at Washington, D.C. in 1884 (as a subsidiary of the "Martyn Commercial College"), and re-incorporated in 1892 following Martyn's death with Webster Edgerly as its new president,[1] having as its purpose the teaching of personal skills, such as elocution, oratory, acting, physical cultural, etc. In early post-incorporation advertisements for the college, the founder was listed as Martyn; however, later adverts credited Edgerly alone as founder and president.
Martyn Commercial College
Founded by Francis G. Martyn (1842-1891) in the mid-1880s, the original Martyn College boasted itself as "the Highest Standard Business College in America," offering a curriculum of "Theory, Practical Banking, and English" (and a sharp disclaimer that "colored students" would not be permitted to enrol).[2] This program would later expand to include classes in elocution, oratory, rhetoric, and related courses of value to the political classes of the D.C. region, all under the name of the Martyn College of Elocution and Oratory.
Following Martyn's death,[3][4] his wife Lizzie Etta (Edgerly) Martyn's[5] brother, Webster Edgerly, would re-incorporate the oratory school under his own administration.
Martyn College of Elocution and Oratory
The college class of 1894 mounted public protest against Edgerly after they were denied graduation and degree, and launched an investigation into his past, outing him as being Edmund Shaftesbury and Everett Ralston, whose works formed the core of the school's program;[6] reports on this matter resulted in Edgerly's filing a libel suit against the Washington News.[7]
References