L. W. de Laurence
From Kook Science
Lauron William de Laurence (March 20, 1868 - September 11, 1936) was an American occultist, author, and publisher of esoteric and occultic texts, including plagiarised works and unauthorised reprints, primarily through De Laurence, Scott & Co. of Chicago.
Background
If one tracks an inconsistent record, L.W. de Laurence was likely born in rural Ohio to parents William de Laurence and Mary Walker in 1868 or 1869, their first-born son and twin brother to sister Lora.[3] In November 1897, de Laurence married Orrie Eckert at Hamilton, Ohio, dubiously reporting himself to be of age;[4] it is unclear how long this marriage lasted. He remarried in around 1905, taking a teenaged native of Kentucky, Pauline McAdoo, as his second wife.[5]
Prior to his storied career as a publisher, de Laurence was a lecturer on - and demonstrator of - mesmerism and hypnotism, operating from Chicago and Pittsburgh during the early 1900s as the De Laurence Institute of Hypnotism and Occult Philosophy (or Suggestive Therapeutics).[6] During this period he boasted to being an A.M., Ph.D., LL.D., and instructor of hypnotism, psychology, and related studies at the American School of Psychology;[7] in addition to being a "student of the Orient in Practical Psychology, Metaphysical, Alchemy, Cabala, Occult and Natural Philosophy," and the credited author of "Medical Hypnosis," "Practical Lessons in Hypnotism and Magnetism," and "The Bible Defended" (all published by Frederick J. Drake & Co., whose principal offices were 352-356 Dearborn St., Chicago).[8]
de Laurence, Scott & Co.
356 Dearborn St. (office suite)
1514 Masonic Temple (office suite) (~1909)
117 N. Wabash Ave (~1914)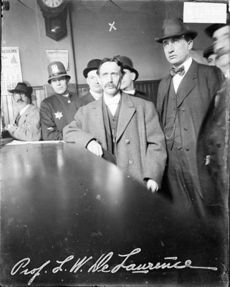 The White Willow and the Black Rose
On 12 November 1912, Chicago police raided de Laurence's temple at 3340 Michigan Ave., arresting de Laurence, his wife Pauline, and others present, based on witness testimony provided by Augusta Muerie. Newspaper reporting on the raid and subsequent trial focused attention to the claim that most male members were "Negroes or Indians" and female members were "white women",[9][10] and that the cult was engaged in lurid activities, including public nudity, self-flagellation, and forays into the dark arts.[11] Further, it was reported that the "chief deity of the temple was found to be a regular cigar store Indian,"[12] which was the focus of the devotions and meditations.
For her part, Muerie specifically alleged that de Laurence had "ruled through the power of hypnotism," that he "practiced black magic and dressed in fantastic clothes," and would "throw himself into a trance and do strange dances of the Orient," sometimes "hypnoti[sing] members of the cult" to do the same; and, further, that he would use his wife or an office assistant named Sadie Pyle as mediums for "strange messages and advice from the spirit world."[13]
Post office inspectors used evidence seized during the raid to bring up charges against de Laurence, who they accused of sending drugs and immoral literature through the mail. De Laurence was ultimately fined $15 in municipal court, and the temple was effectively disbanded.[14]
"The Old and New Knowledge"
[Stub.]
Selected Bibliography
Although noted and outed as a grand plagiarist, de Laurence's texts are nonetheless of interest and merit to this day to students of the Art.
de Laurence, L. W. (1900), Hypnotism: A Complete System of Method, Application and Use, Chicago & New York: The Henneberry Co., https://archive.org/details/hypnotismacompl00laurgoog

 

de Laurence, L. W. (1901), Medical Hypnosis: A Complete System of Method, Application and Use, Prepared for the Self-Instruction of the Medical Profession, Chicago: Frederick J. Drake & Co.

 

de Laurence, L. W. (1902), Practical Lessons in Hypnotism and Magnetism, Chicago: Frederick J. Drake & Co.

 

de Laurence, L. W. (1902), The Bible Defended: The Holy Scriptures Upheld, Chicago: Frederick J. Drake & Co.

 

de Laurence, L. W. (1905), The Sacred Book of Death, Hindu Spiritism, Soul Transition and Soul Reincarnation, Chicago: Benares India Publishing Co., https://archive.org/details/sacredbookofdeat00dela

 

de Laurence, L. W. (1908), "The Immanence of God"; "Know Thyself"; "God (The Soul) and The Man"; "The Book of Self" (God); "Faith" (The Primary Will) As Taught by "Jesus the Master", Chicago: de Laurence, Scott & Co., https://archive.org/details/illustratedkeyto01dela

 

de Laurence, L. W. (1909), God, the Bible, Truth and Christian Theology, Chicago: de Laurence, Scott & Co., https://archive.org/details/godbibletruthchr00dela

 

de Laurence, L. W. (1909), The Mystic Text Book of "the Hindu Occult Chambers"; the Magic and Occultism of India; Hindu and Egyptian Crystal Gazing; the Hindu Magic Mirror, Chicago: de Laurence, Scott & Co., https://archive.org/details/mystictextbookof00dela

 

de Laurence, L. W. (1910), Hypnotism, and Magnetism, Mesmerism, Suggestive Therapeutics and Magnetic Healing, Chicago: de Laurence, Scott & Co., https://archive.org/details/hypnotismmagneti00dela

 

de Laurence, L. W. (1913), A Self Guide for All Men, Chicago: de Laurence, Scott & Co., https://archive.org/details/aselfguideforal00laurgoog

 

de Laurence, L. W. (1914), The Master Key, Chicago: de Laurence, Scott & Co., https://archive.org/details/masterkey00laurgoog

 

de Laurence, L. W. (1916), Crystal-Gazing and Spiritual Clairvoyance: Behind the Veil — the Trance Sleep, Chicago: de Laurence, Scott & Co., https://archive.org/details/crystalgazingspi00dela

 

de Laurence, L. W. (1916), The Illustrated Key to the Tarot: the Veil of Divination, Chicago: de Laurence, Scott & Co., https://archive.org/details/illustratedkeyto01dela

 

de Laurence, L. W. (1916), Clairvoyance and Thought-Transference; Auto Trance and Spiritualism; Psychometry and Telepathy, Chicago: de Laurence, Scott & Co., https://archive.org/details/clairvoyancethou00dela

 

de Laurence, L. W. (1916), Self-Consciousness in Public: How to Control Your Emotions, the Problem and Cure of Self-Consciousness, Chicago: de Laurence, Scott & Co., https://archive.org/details/selfconsciousne00laurgoog

 

de Laurence, L. W. (1916), The Cave of the Oracle: The Great White Brotherhood. Persian And Chaldean Magic. Talismanic Magic. Occultism. Seals And Talismans; Their Construction, Powers And Influence. Dreams, Visions, Omens And Oracles. Healing. Telepathy, Clairvoyance, Spiritism And Bible Contradictions, Chicago: de Laurence, Scott & Co., https://catalog.hathitrust.org/Record/100193427

 
as Editor
Hartmann, Franz (1910), de Laurence, L. W., ed., Magic, White and Black; or, the Science of Finite and Infinite Life, Containing Practical Knowledge, Instruction and Hints for All Sincere Students of Magic and Occultism, Chicago: de Laurence, Scott & Co., https://archive.org/details/magicwhiteblacko00hart

 

Davies, T. Witton (1910), de Laurence, L. W., ed., Magic, Black and White; Charms and Counter Charms; Divination and Demonology Among the Hindus, Hebrews, Arabs and Egyptians; An Epitome of "Supernaturalism" Magic, Black, White and Natural; Conjuring and Its Relation to Prophecy, Including Biblical and Old Testament Terms and Words for Magic, Chicago: de Laurence, Scott & Co., https://archive.org/details/magicblackwhitec00davi

 
Patents
US 933699, De Laurence, Lauron W., "Powder-Dispensing Receptacle", published 1909-09-07

 
Reading
Resources
References