John Stritzen
From Kook Science
John Stritzen (or Stritzel) was a gold prospector and miner active in the Klondike region of the Yukon Territory, holding several claims from 1899 through 1909, who announced in 1910 that he had built a perpetual motion machine based on a design that was given to him in a dream.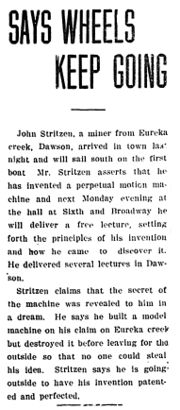 Press Coverage
John Stritzen, a miner from Eureka creek, Dawson, arrived in town last night and will sail south on the first boat. Mr. Stritzen asserts that he has invented a perpetual motion machine and next Monday evening at the hall at Sixth and Broadway he will deliver a free lecture, setting forth the principles of his invention and how he came to discover it. He delivered several lectures in Dawson.

Stritzen claims that the secret of the machine was revealed to him in a dream. He says he built a model machine on his claim on Eureka creek but destroyed it before leaving for the outside so that no one could steal his idea. Stritzen says he is going outside to have his invention patented and perfected.
"Perpetual motion has been discovered," says [...] John Stritzel, who has just 'mushed' out from Dawson[...] Mr. Stritzel encountered all kinds of hardships on his way out, sometimes living on two meals a day, and often on one, but ever pressing on to the outer world, to make known his great discovery. The idea came to him in the way of a dream. Mr. Stritzel began work on his model on the 10th of December, which fell on a Friday. In three weeks time he got stuck, and did not know how further to proceed with his model. Mr. Stritzel says he than made great oblation and prayer for light on the way to make this power.

"In the same night a man appeared to me and brought a little box, about two inches and a half in width and four inches long and showed to me the works running inside. I said that I can make one like it and then he went off at once. I said, 'Let me see that again,' and the man came back and showed me how to start and stop the machine, drawing my attention to three levers which controlled it. I praised him very much that he has given me his secret. He charged me to build one to run a bicycle. I promised I would do so. Then he disappeared at once. As I opened my eyes it was about day light, and I started to build the machine a little over five feet high.

"I tore that one down and burned it up on Feb. 18-19, which fell on Friday and Saturday. This was in Eureka Creek, Y.T. That night a voice came to me and told me to go and preach. Ever since that time I have been on my way to get the machine patented, which I will do so as soon as I can. This powerful machine will run either a clock or a ship on the ocean, according to its size."