Columbia Scientific Academy
From Kook Science
Columbia Scientific Academy



Letterhead of the CSA

Motto
Haec Via Ad Potentiam Ducit ("This Road Leads to Power")
Formation
29 October 1900
New Jersey
Dissolution
15 March 1907 [1][2]
Purpose/focus
Personal Magnetism - Ki Magi - Occult Secrets
Headquarters
New York City
President
R. F. Robertson
Secretary
W. Leslie French
Key people
E. Virgil Neal (New York), A. Victor Segno (California)[3]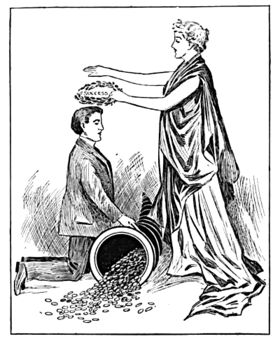 The Columbia Scientific Academy was a mail-order concern that offered courses and degrees in the studies of personal magnetism, palmistry, hypnosis, and occult science, which together formed the basis of their proprietary "Ki Magi" system. The academy was incorporated at New York in late 1900 and operated from offices in New York for some four years before being banned from the U.S. postal system on the basis of fraud, the corporation then ultimately being dissolved three years later.
Despite the collapse of the academy, the men behind it went on to attain great wealth and success in the years that followed: E. Virgil Neal, the founder and operational manager of the outfit, made a fortune in cosmetics as the proprietor of To-Kalon Mfg. Co.; and R. F. Robertson, the president, became a successful stock trader and broker as an associate of Charles Stoneham.
Selected Publications
Robertson, R. F. (1901), The "Ki-Magi" System of Personal Influence (Columbia Scientific Academy)
Neal, E. Virgil (1901), Chirology: or, The Scientific Study of Character from the Hand (Columbia Scientific Academy)
-- (1901), A Course in Personal Magnetism and Physical Culture (Columbia Scientific Academy)
-- (1901), The Secret of Power: A Scientific Treatise on the Reading of Character from the Hand, Face, Head, and Handwriting (Columbia Scientific Academy)
-- (1901), Success and How to Win It (Columbia Scientific Academy)
Administration and Lecturers
Credited in "Ki-Magi" System Booklets
Aaron Fay Green
Nestor A. Young
Jessie A. Fowles (Fowler & Wells)
Mrs. Franklin Hall
S. Dutton Whitney
L. Betram Hawley
Mrs. Jean H. Tucker
Mrs. Carolyn Showerman
F. T. McIntyre
Diploma Holders
Joe Shelby Riley,[4] went on to claim M.D., M.S., Ph.D.,LL.D., N.D., F.A.S., D.M.T., D.P., D.O., B.D., D.C., Ph.C., founded the Riley School of Spinal Therapy, credited with improvements in Zone Therapy and reflexology generally
L. H. S. Brown, palmist and phrenologist in Des Moines, Iowa, 1908
Professor Lewis, the "Eminent Palmist and Life Reader" in Napa, California, 1909
Madams Petite and Carrida, palmists and clairvoyants who advertised their services in New Mexican papers in 1910.
Professor Patrick, solicited himself in New Zealand papers from 1916-1917 as a clairvoyant, physiognomist, phrenologist, etc., with specific note of his being a student of the Columbia Scientific Academy[5]
Press Coverage
"FRAUD ORDER ISSUED. KI-MAGI MAN DENIED THE USE OF THE MAILS.", Fourth Estate: 4, 21 May 1904, https://books.google.com/books?id=TAdGAQAAMAAJ&pg=RA17-PA4

 

"Tribune's Answer in Libel Suit Calls E. Virgil Neal a Quack - Newspaper's Pleading to Patent Medicine Proprietor's Action for Damages Set Up Justification as Defence and Denies the Article Sued On Was False, Malicious or Did the Plaintiff Any Damage - Papers On File Traced Complainant's Career in Selling to the Public", New York Tribune (New York, NY): 18, 23 June 1919, https://chroniclingamerica.loc.gov/lccn/sn83030214/1918-06-23/ed-1/seq-18/

 




[...] In October, 1900, [E. Virgil Neal] had founded with [Thomas F. Adkin] and one Charles S. Clark the "Columbia Academy of Science," a corporation organized under the laws of New Jersey, and doing business in 1981 Broadway. The purpose of the "Columbia Academy of Science," as stated in the certificate of Incorporation, was as follows:

"To give instruction in, or teach either by correspondence, in person or otherwise, chirology, physiognomy, phrenology, graphology and any or all scientific subjects." The Tribune alleges that one of the chief courses of instruction was the "Ki-Magi System" of physical culture or human development, proclaimed as being the greatest discovery of the age.

One of the products of this corporation was a book, entitled "Secret of Power." The "Columbia Academy of Science" advertised it as revealing startling secrets, which enabled persons who read it to make great fortunes, develop will power, improve the memory and eradicate all bad habits. Morgan, Vanderbilt and Rockefeller and other multimillionaires had read "Secret of Power" from cover to cover and used its formulas daily in amassing wealth and influence. Here is a paragraph of advertisement telling just what the "Ki-Magi System," of which Neal was one of the sponsors, could do for you, as quoted in The Tribune's defence:

"A course that develops the nerves, muscles and brain simultaneously. It gives you a most beautiful physique and symmetrical form; it gives you rosy cheeks; it makes you cheerful and happy; it brings to you a healthy flow of blood; a healthy action of each member of the body; it brings back lost vitality; it makes pale, bloodless women who lack vitality and strength attractive, fascinating young ladies or strong, vigorous, happy and healthy wives who love their husbands and make their husbands love them."

In addition to this rather full programme the "Columbia Academy of Science" offered a course in "character reading," enabling students to read a man's character at a glance. It also advertised instruction in "personal magnetism and magnetic healing."

Advertising
"STARTLING REVELATIONS BY A WONDERFUL WOMAN. Knows Your Secrets, Reads Your Very Thoughts — Tells How She Acquired Her Power.", St. Louis Republic (St. Louis, MO): 4, 18 Nov. 1900, https://chroniclingamerica.loc.gov/lccn/sn84020274/1900-11-18/ed-1/seq-4/

 

"NEW ANNOUNCEMENT. Personal Magnetism - How Prominent Men Develop This Power and Use It to Influence Others — Women, Too, Adepts in This Mysterious Art. A Reporter Makes Astounding Discoveries — Secret Methods Which Charm and Fascinate the Human Mind. High Priests of the Occult Reveal Jealously Guarded Secrets — Two Wonderful new Books by Prominent New York Men.", San Francisco Call (San Francisco, CA): 20, 27 Oct. 1901, https://cdnc.ucr.edu/cgi-bin/cdnc?a=d&d=SFC19011027.2.89.4&e=-------en--20--1--txt-txIN-%22Columbia+Scientific+Academy%22-------1

 

"GIVE HIS SECRET TO THE WORLD — A Remarkable Discovery By a Remarkable Man — The Art of Fascinating, the Power of Charming, the Secrets of Personal Magnetism Fully and Completely Revealed at Last — A Marvelous, Mysterious Force, Which Gives Wonderful Mental and Physical Strength, Overcomes All Diseases, Enables You to Know the Secret Natures of Others and Handle Them as You Please.", News & Observer (Raleigh, NC): 10, 13 Sep. 1903, https://chroniclingamerica.loc.gov/lccn/sn85042104/1903-09-13/ed-1/seq-10/

 




Professor R. F. Robertson, Psch., D., CD., is the greatest living teacher of Personal Magnetism. He has astounded the scientists of the world. He has discovered a new system of developing and imparting magnetic force. He believes the great power he has discovered lies dormant in every individual. He guarantees you can master its strange secrets at your own home and perform wonders of which you never dreamed. You can know at a glance the secret natures, talents, weakness, strength and vices of every person you meet. You can quickly develop marvelous physical and mental power, overcome all diseases in yourself or others, banish pain and bad habits without drugs or surgery. Professor Robertson can read your secret nature and influence your thoughts, though a thousand miles away. He can teach you how to do the same. This may seem in credible, but he absolutely guarantees this result under a forfeiture of $1,000.00 in gold. The power of hypnotism, persuasion, threats and entreaties pales into significance when compared with the wonders of this mighty force.

Professor Robertson calls his new discovery the "Ki-Magi" System of Person al Influence. You do not have to have subjects upon which to practice. Professor Robertson's instructions are so plain and explicit that you can read them care fully and at once use this great power secretly to influence and control the thoughts and desires of any one you wish. You will be startled and mystified at the wonderful things you can do; you will be astounded at the amazing power that you can exercise over others. Prominent ministers of the gospel, lawyers and business men have mastered Professor Robertson's new system, and they give it their highest indorsement.

S. I. Yelter, of Middletown, Pa., says: "Your 'Ki-Magi' System of Personal Influence has brought me that success in business for which I have been looking. It is the magnet that controls; there is no guesswork about it — it is a scientific fact. If has taught me to know and control myself as well as others.

Dr. H. H. Childs. Box No. 70, Saratoga, Springs, N.Y. writes: "In your 'Ki-Magi' System of Personal Influence I have found what. I have for years searched for in vain. It has changed the whole trend of thought and given my life a new meaning. I feel younger and stronger every day. I find in it the key to business success.

Mrs. A. B. Egert, of 503 Woodland avenue, Cleveland, Ohio, writes: "I do not see how any society woman can become a successful leader without a knowledge of the wonderful secrets im parted by the 'Ki-Magi' system.

Mr. George W. Howard, of 157 Beech Street, Detroit, Mich., says: "By means of your 'Ki-Magi' system I have made some startling discoveries in the characters of my friends! It is far beyond my fondest expectations. It should be in the hands of every man and woman who wishes to achieve the greatest success in life."

We have just issued 8,000 copies of Professor Robertson's new book entitled "The Secret of Power." We propose to give these 8,000 copies away, absolutely free, to interested person for the purpose of showing the startling possibilities of this great discovery. We want you to have one free. After you get one tell your friend. He will want one also, but he must write at once if he gets in on our free distribution, as these books are going very fast. After 8,000 copies of this book are distributed everybody will want one. But they will cost money then. Remember, they cost you nothing now. Address Columbia Scientific Academy, Department 968. 1941 Broadway. New York.
Reading
References