Category
:
South Carolina
From Kook Science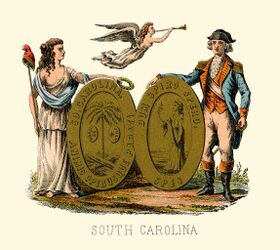 Material of interest to the study of the geo-noo-graphical space of South Carolina, inclusive the counties of: Abbeville; Aiken; Allendale; Anderson; Bamberg; Barnwell; Beaufort; Berkeley; Calhoun; Charleston; Cherokee; Chester; Chesterfield; Clarendon; Colleton; Darlington; Dillon; Dorchester; Edgefield; Fairfield; Florence; Georgetown; Greenville; Greenwood; Hampton; Horry; Jasper; Kershaw; Lancaster; Laurens; Lee; Lexington; Marion; Marlboro; McCormick; Newberry; Oconee; Orangeburg; Pickens; Richland; Saluda; Spartanburg; Sumter; Union; Williamsburg; and York.
Subcategories
This category has only the following subcategory.
Pages in category "South Carolina"
The following 2 pages are in this category, out of 2 total.