Mississippi
From Kook Science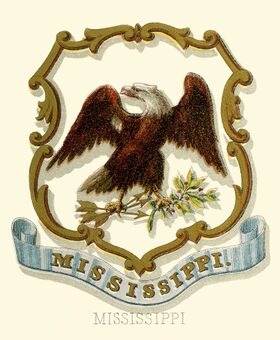 Material of interest to the study of the geo-noo-graphical space of the territory or state of Mississippi, inclusive the counties of: Adams; Alcorn; Amite; Attala; Benton; Bolivar; Calhoun; Carroll; Chickasaw; Choctaw; Claiborne; Clarke; Clay; Coahoma; Copiah; Covington; De Soto; Forrest; Franklin; George; Greene; Grenada; Hancock; Harrison; Holmes; Humphreys; Issaquena; Itawamba; Jackson; Jasper; Jefferson; Jefferson Davis; Jones; Kemper; Lafayette; Lamar; Lauderdale; Lawrence; Leake; Lee; Lefiore; Lincoln; Lowndes; Madison; Marion; Marshall; Monroe; Montgomery; Neshoba; Newton; Noxubee; Oktinneha; Panola; Pearl River; Perry; Pike; Pontotoc; Prentiss; Quitman; Rankin; Scott; Sharkey; Simpson; Smith; Stone; Sunflower; Tallahatchie; Tate; Tippah; Tishomingo; Tunica; Union; Walthall; Warren; Washington; Wayne; Webster; Wilkinson; Winston; Yalobusha; and Yazoo.
Subcategories
This category has only the following subcategory.
Pages in category "Mississippi"
This category contains only the following page.