Aurora Airship Crash (1897)
From Kook Science
The Aurora Airship Crash was an alleged aviation accident of unusual character that was reported to have taken place on 17 April 1897 near the town of Aurora in Wise County, Texas. According to the account, received by the Dallas Morning News by wire from S. E. Haydon, the airship in question was piloted by an extraterrestrial man, and the crash was likely caused by mechanical failure, leading to its sudden descent over the town square and collision with a windmill tower on the property of a Judge Proctor, whereupon it exploded violently. Haydon further reported that the pilot did not survive, and the remains were badly disfigured but that a T. J. Weems gave the opinion that the man was "a native of the planet Mars," and that papers written in unknown hieroglyphics were salvaged. The body was to have been buried at noon on 18 April 1897 in the Aurora cemetery.
Dramatis Personae
As far as we have been able to ascertain...
Samuel E. Haydon (1854 - 1928), a Kentucky-born businessman and farmer, husband of Sarah E. (Parker) Haydon, resident of Aurora for some years before relocating with his family to Kings County, California in the area of Grangeville and Lucerne.
James Spencer Proctor (1837 - 1917), owner of the windmill and property reported as destroyed by the crash. [1]
T. J. Weems (July 4, 1842 - June 26, 1925), cited as Fort Worth authority, "U.S. Army Signal Service officer," amateur astronomer; former private in the Confederate Army (1861-5), Well's Regiment, Texas Cavalry, Company B; teamster in the Choctaw Nation; blacksmith. [2]
The Pilot, a Martian gentleman, now buried in the Aurora town cemetery.
The Story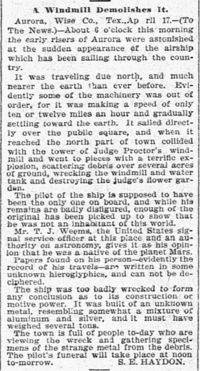 Dallas Morning News of 19 April 1897
A Windmill Demolishes It.

  Aurora, Wise Co., Tex., April 17. — (To The News.) — About 6 o'clock this morning the early risers of Aurora were astonished at the sudden appearance of the airship which has been sailing through the country.

  It was traveling due north, and much nearer the earth than ever before. Evidently some of the machinery was out of order, for it was making a speed of only ten or twelve miles an hour and gradually settling toward the earth. It sailed directly over the public square, and when it reached the north part of town collided with the tower of Judge Proctor's windmill and went to pieces with a terrific explosion, scattering debris over several acres of ground, wrecking the windmill and water tank and destroying the judge's flower garden.

  The pilot of the ship is supposed to have been the only one on board, and while his remains are badly disfigured, enough of the original has been picked up to show that he was not an inhabitant of this world.

  Mr. T. J. Weems, the United States signal service officer at this place and an authority on astronomy, gives it as his opinion that he was a native of the planet Mars.

  Papers found on his person — evidently the record of his travels — are written in some unknown hieroglyphics, and cannot be deciphered.

  The ship was too badly wrecked to form any conclusion as to its construction or motive power. It was built of an unknown metal, resembling somewhat a mixture of aluminum and silver, and it must have weighed several tons.

  The town is full of people to-day who are viewing the wreck and gathering specimens of the strange metal from the debris. The pilot's funeral will take place at noon to-morrow.       S. E. HAYDON.
References
↑ "House Of Proctor Genealogy," entry on James Spencer Proctor, links to Aurora Airship Crash documentation (<http://www.houseofproctor.org/genealogy/getperson.php?personID=I17146&tree=hop> : accessed 31 Aug 2014), J.S. Proctor, b. Dec 1837 Kentucky, USA d. 11 Sep 1917 Boyd, Wise, Texas, USA.
↑ "Texas, Deaths, 1890-1976," index and images, FamilySearch (https://familysearch.org/pal:/MM9.1.1/K7DV-3FG : accessed 31 Aug 2014), T J Weems, 26 Jun 1925; citing certificate number 24033, State Registrar Office, Austin; FHL microfilm 2113921.