William McKinley Estep
From Kook Science
William McKinley Estep

Author photo in "Esoteric Cosmic Yogi Science" (1929)

Alias(es)
Mahatma Gowtam Rishi, Swami Sabhapati, Bishop John Smith
Born
8 October 1896  [1]
Kanawha, West Virginia
Died
19 February 1967 (70) [2]
FCI Terminal Island, Los Angeles, California
Nationality
American
Affiliations
Super Mind Science Pub.
National Church of Positive Christianity
Baptist Missionary Alliance
Kingdom Church of Christ (Los Angeles)

Known for

Estemeter; Atomotrone; Kansevisor

Spouse(s)

Dora [Maxwell] Estep (d. 1956)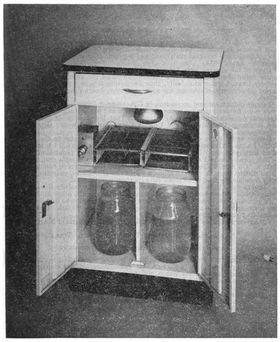 William McKinley "Old Doc" Estep (October 8, 1896 - February 19, 1967) was an American evangelist of esoteric Christianity, lecturer and writer on Hinduism and yoga, and purveyor of "atomic" healing nostrums. He was convicted on charges of fraud and unauthorized practice of medicine in several jurisdictions, stemming from the peddling of his Estemeter and Atomotrone machines for the treatment of cancer and other disease.
Background
1914-1923 - Los Angeles, California - as the Spiritualistic Temple, Estep conducted seances as a medium, claiming various occult expertise. He was repeatedly raided, charged, and sometimes convicted during this period with violating city ordinances, obtaining money under false pretenses.
1928 - it is reported that Estep and his fiancée (?), Dora Maxwell, had converted to Hinduism (Indian News Agency dispatch from Kankhal, Himalayas). Estep himself would later detail his being trained by Sanatan Dharma, who granted him the title Mahatma Gowtam Rishi, and Swami Sabhapati, claiming expertise in a variety of esoteric yogic disciplines. Elements of Hindu disciplines and Estep's existing Spiritualist and occult leanings would become his syncretic "Positive Christianity".
1930 - "Super-Mind Science" demonstration, accused of obtaining money under false pretenses; restitution paid, charges dropped.
Estep and wife, charged with violation of insurance laws, obtaining money under false pretenses, racketeering under guise of religion.
1938 - Kansas City, Missouri - Established "Gland Estemeter Corporation" to sell and promote a medical product of same name, and operated a health food store on 12th St. in the city. Reported to have sold M.S.D. (Doctor of Metaphysics) degrees at $100 a pop.
1942, December - Florida - Found guilty on conspiracy, mail fraud charges, relating to soliciting a gold mine stock in Marysvale, Utah; sentenced to 18 months. "A phantom gold mine purportedly discovered in a dream." Estep had conviction overturned after convincing appeals he had been duped by his associates.
Naturopathic license subsequently revoked by Florida State Board of Medical Examiners.
1945 - Tennessee - Second degree murder charge, unlawful administration of drugs. Fled to Mexico, but was captured and extradited. Found guilty, sentenced to 90 days.
1949-50 - After relocating to Chicago, Illinois, Estep becomes something of a local celebrity following a series of newspaper articles on medical quackery by Norma Lee Browning, Chicago Tribune (the series later won the Edward Scott Beck Award). He would quickly file a libel suit against Chicago Tribune over expose on "Baptist Missionary Alliance", which was eventually thrown out of court.
1949, September - Chicago, Illinois - Charged with medical fakery, violating medical practice act.
1950 - Estep and wife convicted of conspiracy; fined $2000 each, and prison sentences of 5 and 2 years, respectively. The couple fled to Texas to avoid prison, and were fighting extradition as late as 1954, when Estep was busted for fraud again.
1952 - Established "Atomotor Manufacturing Co." at Abilene, Texas, to sell and promote product of same name. Investigation by SEC leads to charges of fraud in 1954.
1954 - Found guilty of mail fraud, offering for sale a perpetual motion machine (?); 5 years. Sentence reduced for good behavior, released in 1958.
1960 ~ Estep, under the name Bishop John Smith, now associated with the Kingdom Church of Christ, actively lectured in California (La Puente, Pasadena, Los Angeles county) and resumed the sale of his "atomic" healing devices, mixing flying saucers and other elements into his routines.
1961, February - Estep is accused of jumping a $2,500 bond after his indictment on income tax evasion charges at Waco, Texas in 1958. [Charged with filing a fradulent income tax return in 1951.] Eleven months later, he was found guilty, and sentenced to 5 years; unclear how long he served.
1965, November - Arrested in Altadena, California. Charged with practicing medicine without license, selling bottled water without license.
1966, January - Pleads guilty to lesser charge of selling bottled water without license; medical charge dropped.
1967, February - Estep passed away FCI Terminal Island, Los Angeles while serving his sentence.
Selected Bibliography
"Super Mind Science and Health", Books 1-5 (1925)
"Symbols of Inner Mysteries : Secret Book of the Sons of the Solitudes" (1925) -

Bk. 1. Sacred Teachings of the Interlaced Triangle.
Bk. 2. The Book With Seven Seals.
Bk. 3. Ancient Mystery of the Three Electrones.
Bk. 4. The Foundation of the Inner Temple.
Bk. 5. The Symbol of the Senses.

"The Great Revelation; or the White Prophecy" (1927)
"An American Answers Mother India" (Excelsior Springs, Mo: Super Mind Science Publications, 1929)
"Super Mind Science With Keys to Christianity" (Super Mind Science Pub., 1929)
"A Treatise on Esoteric Evolution and Animal Magnetism" (1930)
"The Lodge of Light: the Great Pyramid Book of Sacred Mysteries; With a Treatise on the Ancient Order of Temple Builders" (Super Mind Science Temple, 1930)
"Eternal Wisdom and Health With Light on the Scriptures" (Super Mind Science Pub., 1932)
"Jesus the Healer (the Master Key to Health and Prosperity)" (Baptist Missionary Alliance, ?)
References
↑ "West Virginia Births, 1853-1930," index, FamilySearch (https://familysearch.org/pal:/MM9.1.2/939G-S16 : accessed 14 Jun 2014), Wm. Mc. Estep, 08 Oct 1896; citing 213, Kanawha, West Virginia, United States; FHL microfilm 521730.
↑ "California, Death Index, 1940-1997," index, FamilySearch (https://familysearch.org/pal:/MM9.1.2/9MHW-TYYK : accessed 14 Jun 2014), William M Estep, 19 Feb 1967; citing Department of Public Health Services, Sacramento.