Minard's "King of Pain" Liniment
From Kook Science
ᴍɪɴᴀʀᴅ'ꜱ ʟɪɴɪᴍᴇɴᴛ
Creator(s)
Levi Minard

Year created

c. 1860s
Minard's "King of Pain" Liniment (or, Minard's Liniment) is the brand name for a pain relief ointment that was originally manufactured in the 1860s by Levi Minard, an eclectic practitioner from Nova Scotia.
Backstory

Minard's Liniment was produced by separate companies on either side of the Canada-U.S. border for nearly ninety years: the Canadian brand, through C. C. Richards & Co. and later Minard's Liniment Co. Ltd. in Nova Scotia, and the American brand, through Nelson & Co. and later Minard's Liniment Mfg. Co. in Massachusetts. The brands were eventually brought under the singular ownership of British pharmaceutical company Beecham Group in the 1960s and 1970s, respectively, which was itself merged into SmithKline Beecham in 1989, before, finally, the Minard's brand was sold by SmithKline Beecham in 1998 to Stella Pharmaceutical of Oshawa, Ontario, the modern-day Canadian manufacturers of the liniment.
Canada
As the story goes, Levi Minard sold the formula for his liniment to William Johnson Nelson, Minard's brother-in-law (William Nelson)'s son, sometime in the 1870s. By 1887, Nelson had apparently sold the formula to C. C. Richards & Co., a partnership between Charles Churchill Richards and Cap. Augustus Cann; however, Nelson continued to sell Minard's Liniment in Massachusetts as Nelson & Co.
In 1905, C. C. Richards & Co. was sold to L. C. Gardner & Co. (Lindsay Cann Gardner), while the Minard's Liniment trade was handed off to a new joint stock company, Minard's Liniment Co. Ltd., formed by Royal Securities Corp. Ltd. This new company's management authority was, within three years, fully vested back into the hands of Augustus Cann, L. C. Gardner, and C. C. Richards. It would remain a major part of Yarmouth manufacturing sector until the 1960s, when Minard's Liniment Co. Ltd. was sold to Beecham Canada Ltd. (Ontario), and, in 1967, the Yarmouth factory shuttered as operations were relocated to Weston, Ontario.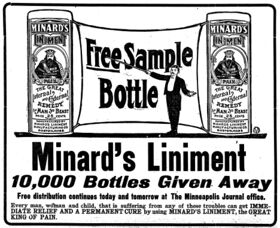 United States
On the other side of the border, from 1882 (or '85), the liniment was still sold by W. J. Nelson, with his nephew, Orris Wentworth Nelson, and his brother, John Lockhart Nelson, as Nelson & Co. at 273 Commercial St., Boston, Massachusetts, and, from 1891, as Minard's Liniment Manufacturing Company, a Maine corporation.[1][2] In 1899, Minard's Liniment Mfg. Co. was re-incorporated in Massachusetts by J. L. Nelson, O. W. Nelson, and Alice M. Nelson.[3] When J. L. Nelson retired in 1904 and returned to Nova Scotia, O. W. Nelson took over the operations of the company, ultimately relocating the factory to South Framingham.
Minard's Liniment Mfg. Co. was renamed to Minard Company by the 1920s, and later relocated to Hyannis, Massachusetts, where it continued to operate until selling its trademarks to Beecham Inc. of Clifton, New Jersey in the early 1970s.
Composition
The U.S. Food and Drug Administration's Bureau of Chemistry performed an analysis in 1915 on Minard's Liniment, sold through Minard's Liniment Mfg. Co. of Boston, finding "it to be a thick white emulsion containing ammonia, ammonium chlorid, turpentine, camphor, and ammonia soap."[4]
References