Charles Wentworth Littlefield
Jump to navigation
Jump to search
Charles Wentworth Littlefield

As pictured in "The Beginning and Way of Life"
Born
17 December 1859[1]
Mankato, Minnesota
 
Died
2 February 1945 (85) [2]
Seattle, King, Washington
Nationality
American
Alma mater
Kansas City Homeopathic Medical College (1896)
Field(s)
Medicine (homeopathic)

Known for

"Resurrection salt", "Rainbow lamps", his theory of mineral archebiosis

Spouse(s)

Lena Leota Hurd (m. 1882) [3][4]; Mary L. McDonald (m. 1934) [5]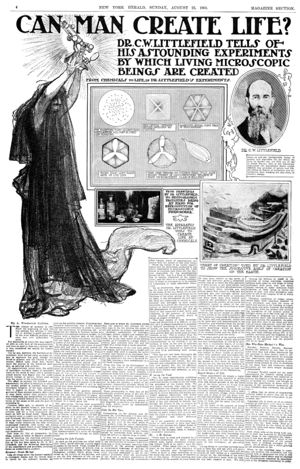 Charles Wentworth Littlefield (December 17, 1859 - February 2, 1945) was an American homeopathic physician, surgeon, and prononent of a theory of archebiosis from minerals.
Background
By his own account, as published in the "One thousand American men of mark today" (1916), Littlefield was a self-taught practitioner, "admitted to practice by the State Board of Examination in Arkansas in 1886. In 1896 he received the degree of M.D. from the Kansas City Homeopathic Medical College, valedictorian of class. He has practiced medicine under the State Board of Examiners in Arkansas in 1886-90; in Kansas in 1890-97; in 1897-1909 at Indiana; and since 1909 at Washington. He is a member of the Indiana Institute of Homeopathy, Washington State Society of Homeopathy, King County Homeopathic Medical Society, and the American Institute of Homeopathy." After relocating from Indiana in 1909, records suggest that Littlefield remained in King County, Washington for the remainder of his life.
Saline for the Cure
"I can bring the dead back to life."
Archebiosis by Design
"Ammonia, alcohol, and distilled water added to a quantity of salt..."
A selection of newspaper reports on Littlefield's claims to have created life in his laboratory:
A more critical survey of the claims:
Rainbow Lamps
An instrument for the healing of the body and mind by use of light.
The Rainbow Lamp, patented on 27 August 1918 as "Therapeutic Light Apparatus" (US Patent No.: 1277089), is described as "an apparatus which may be employed to decompose light into its elementary colors and then to concentrate or collect a large number of similar rays upont he same area in such a manner that the rays of the same color from all sources will be superposed upon the same area."
See also: Rainbow Temple Association.
Blood, Salt, and Biblical Mantras
"...illustration that thoughts are things and their power may be expressed through certain mineral compounds, such as organic, vegetable, animal and human; and second that our thoughts may be formulated into charms or mantras according to a mathematical system called Personal Numerology or Mantras."
Selected Bibliography
Littlefield, Charles Wentworth (1905), The Riddle of the Ages

 

Littlefield, Charles Wentworth (1910), The Twelve Vitalized Tissue Remedies: for Private and Domestic Use, Constituting a New Science in the Work of Health and Healing Book, Seattle: Metropolitan Press

 

Littlefield, Charles Wentworth (1911), Twelve Practical Lessons in Biology, Psychology and Metaphysics, Seattle: The Arche-biosis Assembly

 

Littlefield, Charles Wentworth, Harmony of Nature and Revelation

 

Littlefield, Charles Wentworth (1919), The Beginning and Way of Life, Seattle: Rainbow Temple Association

 

Littlefield, Charles Wentworth, The Mind Control of Matter

 

Littlefield, Charles Wentworth, From Mineral to Man

 

Littlefield, Charles Wentworth, Archebiosis

 

Littlefield, Charles Wentworth (1937), Man, Minerals and Masters, Los Angeles: DeVorss & Co.

 
References