Brother Isaiah (John Cudney)
From Kook Science
Brother Isaiah

Portrait photo from Traces of the Footsteps of Jesus (1923)

Alias(es)
Isaiah Cudney
Born
John Cudney
19 October 1847
Canada, B.N.A.
Died
21 July 1934 (86)
Oroville, California
John Cudney (October 19, 1847 - July 21, 1934), also known as Brother Isaiah (as self-proclaimed the 88th Incarnation of the Prophet Isaiah) and the Miracle Man, was a British Canadian-born Christian revivalist and faith healer active in New Orleans and Los Angeles in the early 1920s, and founder of religious colonies near Fort Myers, Florida[1] and Oroville, California in the years following.
Selected Bibliography
Reading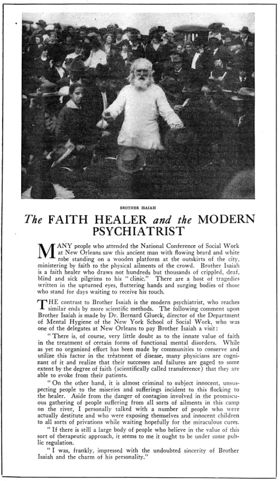 Press Coverage
New Orleans, La. (1920)
Los Angeles, Ca. (1921-1923)
Return to Louisiana (1923)
"Faith Colony" near Fort Myers, Fl. (1924-1928)
"Colony of the Saints" near Oroville, Ca. (1929-1934)
References
↑ "Built In anticipation of a second deluge", Rockland County Leader (Spring Valley, NY): 12, 1928-12-06, https://news.hrvh.org/veridian/cgi-bin/senylrc?a=d&d=ifadgbdf19281206.1.12&txq=%22Brother+Isaiah%22, "Built in anticipation of a second deluge, the houseboat homes of the Faith Colony established near Fort Meyers, Fla., four years ago by "Brother" Isaiah, are for sale, together with the rest of the colony's property. The twenty-five remaining members of a colony of 100, following receipt of a telegram from Isaiah in California advising them to comply with a court order to vacate an eighty-acre tract on which the colony was founded, are preparing to depart. Isaiah is said to be Investigating a site for a colony in California."