Ancient and Noble Order of Gormogons
From Kook Science
Ancient and Noble Order of Gormogons



Medallion of the Gormogons, front and back.

Formation
c. 1724
Headquarters
London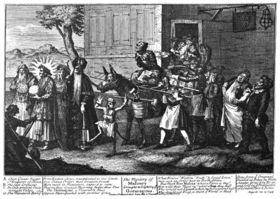 The Ancient and Noble Order of Gormogons (or August and Noble Order of Gormogons) was a pseudo-Oriental secret society, allegedly founded in China and open exclusively to non-Masons,[1] though it was speculated that the group was more likely organised by Roman Catholic or Jacobite agitators formerly involved in English Masonry, and specifically by Andrew Michael Ramsay (also known as Chevalier Ramsey), or Philip Wharton, 1st Duke of Wharton, founder of the original Hellfire Club and former Mason.
Resources
Moore, Charles W., ed. (March 1863), "The Gormogons, a Historical Sketch", The Freemasons' Monthly Magazine (Boston: Hugh H. Tuttle) 22 (5): 145-151, https://archive.org/stream/freemasonsmonth12moorgoog#page/n174/mode/2up

 

Speth, G. W., ed. (1895), "The Gormogons", Ars Quatuor Coronatorum: Being the Transactions of the Quatuor Coronati Lodge, No. 2076, London, 8, Margate: Keble's Gazette Office, p. 123-155, https://archive.org/details/arsquatuorcoron03unkngoog

 
References
↑ Stevens, Albert C., ed. (1907), "Anti-Masonry - Gormogons", The Cyclopædia of Fraternities (2 ed.), New York: E.B. Treat and Co., p. 9, https://babel.hathitrust.org/cgi/pt?id=mdp.39015020238435;view=1up;seq=37

, retrieved 2016-10-28

, "[...] on September 3, 1724, the London 'Daily Post' announced the appearance in that city of a secret society described as the Ancient and Noble, or, the August and Noble Order of Gormogons. It was declared to be of Chinese origin, founded 'thousands of years' prior to Adam, and the printed account set forth that a Chapter would be held at Castle Tavern, Fleet Street, where 'no Mason' would be received as a member 'till he had renounced' his 'novel Order' and been 'properly degraded.' Six weeks later the same paper stated that 'many eminent Freemasons' had 'degraded' themselves (renounced their Fraternity and burned their gloves and aprons) and joined the Gormogons."